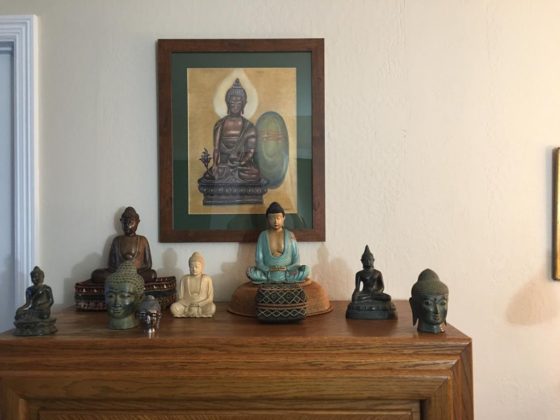 Introduction
Compassionate listening and loving speech are the foundations of our sharing practice. As mindfulness deepens awareness of our experience we find new ways to enhance our own well-being. We become able to transform our suffering and find freedom in the present moment.
I will try to record all sessions, in case something comes up for you and you have to miss a session. They will appear after each session in the schedule below along with a guided meditation that you can download or listen from your computer. This schedule is subject to change session by session and the times listed are approximate.
I want to do ten to fifteen minute meditations in these classes in order to make time for the talk and discussion. You are encouraged to practice at home for at least 9 minutes a day. Some practices are suitable for children as you will see later.
All classes will be held on Zoom and this is the zoom link for all sessions (Meeting ID: 734 777 397). Please plan to arrive on time at 7:00 PM. If possible, please have your video on so we can see you. At the end of the class, you will be asked to fill out a student evaluation form to be submitted to the Mindfulness Meditation Teacher Certification course.
Jump to:
Schedule
Session 1 February 16, 2022: What is Mindfulness?
| | |
| --- | --- |
| 7:00 | Welcome and class overview |
| 7:10 | What is mindfulness? |
| 7:30 | Guided meditation |
| 7:40 | Questions, answers and sharing |
Recording for What is Mindfulness?
Guided meditation for In / Out
Essential Teachings
The four aspects of practice:

seeing things as they are
learning to be here in the present moment
noticing how things change
non-judging awareness
Session 2 February 23, 2022: Working with Emotions
| | |
| --- | --- |
| 7:00 | Welcome and check-in |
| 7:10 | Guided meditation |
| 7:20 | Managing emotions with RAIN |
| 7:40 | Questions, answers and sharing |
Recording for Working with Emotions
Guided meditation for deep / slow
Essential Teachings
Feeling states are pleasant, unpleasant or neutral
Avoid being swayed by the worldly winds

Pleasure / pain
Gain / loss
Praise / blame
Fame / disrepute

Two questions

What am I happy about and how do I increase my happiness
What am I unhappy about an how do I decrease my unhappiness
Session 3 March 2, 2022: True Happiness
| | |
| --- | --- |
| 7:00 | Welcome and check-in |
| 7:10 | Guided meditation |
| 7:20 | Introduction to true happiness |
| 7:40 | Questions, answers and sharing |
Recording for True Happiness
Guided Meditation for Happiness
Please click here for the Guided Meditation for Happiness.
Essential Teachings
Savoring: The act of stepping outside of an experience to review and appreciate it.
Gratitude: The quality of being thankful and a tendency to show appreciation for what one has.
Did you do your gratitude practice? Share your gratitude in an email to me.
Session 4 March 9, 2022: Happiness for Life
| | |
| --- | --- |
| 7:00 | Welcome and check-in |
| 7:10 | Guided meditation |
| 7:20 | More happiness "hacks" |
| 7:40 | Questions, answers and sharing |
Recording for Happiness for Life
Guided Meditation: Pause – Relax – Open
Essential Teachings
The following ideas for happiness were discussed:
The importance of social connection
Engagement in life by doing what we love to do
Exercise
Sleep
Meditation
Bonus Session 5 March 16, 2022: Gratitude and Generosity
Essential Teachings
Tara's four components of gratitude:
Remembering the good
Feeling gratitude and staying with it when you do, pause and go, savoring
Say it out loud when you are grateful
Bringing a kind presence to whatever you are feeling and the more you are with it, the more you will begin to feel appreciation for it
Guidelines for Check-in and Sharing
These are the guidelines for sharing from Plum Village, the inspiration for this class. I will explain these in the session 1. Additional guidelines from the East Bay Meditation Center can be found here. Please read them if you can.
All that arises is confidential. What is said here, stays here.
Speak from experience and avoid theoretical discussions.
Indicate our intention to speak by bowing, and indicate we have finished speaking by bowing.
Practice loving mindful speech and watering positive seeds.
If answering a question, speak from experience.
Share with the whole circle.
Practice taking three mindful breaths after someone has shared.
Refrain from speaking a second time until everyone has had a chance to speak.
Practice deep listening.
Avoid cross talk.
Only ask someone for additional information if you have their permission.
Links and References
Course related links
Reference websites
9 Minute Meditation: an online beginning meditation course, offered freely with donations accepted
Meditation Practices: this website with more than 1300 articles for you to browse
Mindfulness Breaks: you are signed up to receive daily mini mindfulness breaks just by being in this class. Please don't unsubscribe until the class ends.
Mindfulness In Healing: check out my healing journey
Mindfulness to Be Happy
Quotes
Note: These quotes are from a database of over 10,000 quotes applicable to the study of mindfulness meditation. You can access the quote database here. Enter the search criteria and press "Find Quote". When you enter information in any of the fields, do not press "enter," unless you want a new line to be found in the quote. For example, if you put "hanh" (for Thich Nhat Hanh), you will get more than 630 quotes. Some may be duplicates.
If your mind is empty, it is always ready for anything, it is open to everything. In the beginner's mind there are many possibilities, but in the expert's mind there are few.

– Suzuki Roshi, Daily Peace Quotes
The Purpose of Mindfulness

Mindfulness allows us to watch our thoughts, see how one thought leads to the next, decide if we're heading toward an unhealthy path, and if so, let go and change directions.

– Sharon Salzberg, "Mindfulness and Difficult Emotions"
Zen Mind, Beginner's Mind

Beginner's mind is Zen practice in action. It is the mind that is innocent of preconceptions and expectations, judgments and prejudices. Beginner's mind is just present to explore and observe and see "things as they are."

– Zenkei Blanche Hartman, "The Zen of Not Knowing"
All You Need Is Breath

The Buddha's practice of mindfulness of the breath does not require extraordinary zeal or physical strength, nor does one need advanced education or ritual blessing. It is recommended for both beginners and accomplished meditators. By skillfully utilizing the natural breath, any person, monastic or lay, can realize the fruit of awakening. The broad appeal and availability of this practice is breathtaking!

– Shaila Catherine, Lion's Roar

How to Receive

The Buddha encouraged us to think of the good things done for us by our parents, by our teachers, friends, whomever; and to do this intentionally, to cultivate it, rather than just letting it happen accidentally.

– Ajahn Sumedho, "The Gift of Gratitude"
Dana
"Dāna (pronounced "daa-nuh") is the Pāli word for giving. Dāna is the first perfection of the heart (pāramī), and the foundation of Buddhist practice, based in the understanding that giving opens the heart, creates connection to others, and teaches letting go.
"According to the Buddha, generosity and sharing of resources is a central pillar of spiritual life, the foundation of wholesome kamma—action that bears fruit in our lives and the lives of others. Dating back to the Buddha and the first monastic practitioners, those who preserve and offer the teachings have always lived in interdependence with the community around them. Buddhist monks and nuns rely completely on the generosity of lay people for support in continuing their teaching and spiritual life." – Spirit Rock
These classes are offered in the spirit of generosity. They are offered freely and donations are gratefully accepted. By offering dana, you show gratitude, support the teacher and the Thich Nhat Hanh Foundation in honor of his recent passing.
Support Information
For support, please write Jerome Freedman, jerome@mountainsangha.org.