Well, I'm back in full swing again and I want to know, "How can I help you?"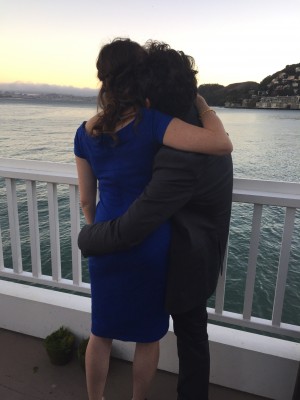 The month of November flew by in a flash. My son got married on October 31 and my daughter, Jessica was visiting from Barcelona with her boyfriend (see photo) from October 25 through November 16. They are back in Barcelona now.
After the wedding celebrations, I became ill with an upper respiratory infection and missed a lot of nice activities with my family. By November 10, I was well enough to attend a beautiful wedding of the son of one of my oldest and best friends in San Diego. We were gone for three days while Jessica and her boyfriend were in Carmel and places south.
After Jessica left, I felt like taking some time off to evaluate what I had accomplished with Meditation Practices and my new book, Healing with the Seven Principles of Mindfulness.
In order to figure out how I can best serve your needs for meditation, I'd really appreciate if you would answer the questions in the following survey. As a reward for letting me know how I can help you with your meditation practice, I'll send you the first two chapters of Healing with the Seven Principles of Mindfulness.
[contact-form-7 id="13666″ title="Survey"]
Thank you for reading and filling out the survey.