Take the Cancer Quiz to Find Out How

Not

to Get this Dreaded Disease
As you probably know, I am a cancer survivor for almost nineteen years. My son is a cancer survivor for 39 years. You may also know that we used the Seven Principles of Mindfulness in Healing to thrive and succeed in a complex cancer system.
Did you know that every single minute of every single day… over 15 people die of cancer? Find out how not to be one of them with this short 42 second quiz.
Sounds too shocking to be true doesn't it?
Every minute (60 seconds) over 15 people die of cancer around the world and ultimately 1 in every 3 people on the planet right now will be diagnosed with cancer.
But there's emerging evidence that your overall health and nutrition can directly affect your chances of getting this dreaded disease, and if you'll come through it on the other side.
You need to know YOUR risk level as soon as you can so you can be ready for the future.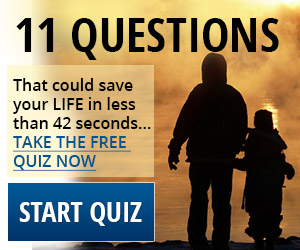 This short, 42 second intensive quiz will reveal some remarkable results about your chances of getting cancer, and what you can do to avoid this terrible diagnosis.
This quiz has been designed by some of the best and brightest cancer researchers and scientists around the globe working right in the trenches to try and eradicate this dreaded disease once and for all.
You deserve a fighting chance… take the cancer quiz today and get your personalized results to see your fate.
When I took the quiz, I found out that my risk was low. How about you?