What do the Vaquita porpoise, jaguar and elephant have in common?
All of these animals are in immediate danger of extinction due human causes of over fishing, loss of habitat from deforestation and farming, interaction with human fishermen and farmers, and worst of all, pouching and climate change.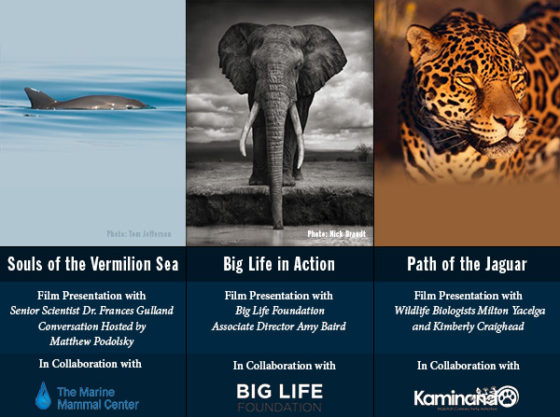 Last Sunday, I witnessed three presentations and short documentary films describing the plight of these animals put on by the Sausalito Film Festival and various presenters. The ballroom at the Cavallo Point Lodge, also a co-sponsor of the event, was jammed with about 250 people (my estimation) and every presenter was greeted by a wonderful applause.
Souls of the Vermilion Sea is about the struggle to save the imperiled Vaquita porpoise – one of the worlds most endangered marine mammals found only in the northern waters of the Gulf of California. The numbers of these small porpoises are decreasing at an alarming rate; only 60 are alive today. This film was produced by my good friends, John and Ramona Mays and directed by Matthew Podolsky, president of Wild Lens. The discussion afterwards, featuring Dr. Frances Gulland – Senior Scientist at The Marine Mammal Center, revealed that the habitat of the Vaquita porpoise has shrunk considerably and consists of only the northern most section of the See of Cortez (Gulf of California) around San Felipe, Mexico.
Please watch the trailer for the movie.
Path of the Jaguar
is a stunning portrait of these big cats and how their terrain in the Mamoni Valley Preserve in Panama is being threatened (and thus their survival) by forest fragmentation.
Milton Yacelga
, co-founder and president of
Kaminando
gave and introductory presentation before the movie to pinpoint the tragic implications of rainforest fragmentation on the migration and habitat of the jaguars which roam from Mexico to South America through Panama. Without this corridor, the jaguars will loose their mating and hunting habitat and the species who depend on them will also become endangered. After the movie,
Kimberly Craighead
, co-founder and vice president of
Kaminando
talked about her Ph. D. thesis on counting the number of jaguars in a specific range in the Mamoni Valley Preserve.
Connect with Meditation Practices
Connect with


Or enter your name and email address below.