There's a growing body of scientific studies that's proving what you have known for a long time…
The incredible benefits of meditation.
And now more than ever, meditation is being widely accepted as a tool to live passion-filled, fulfilling lives.
One of the biggest advocates for meditation is founder of the Huffington Post – Arianna Huffington.
And her wisdom in her quotes have been captured in this one elegant image…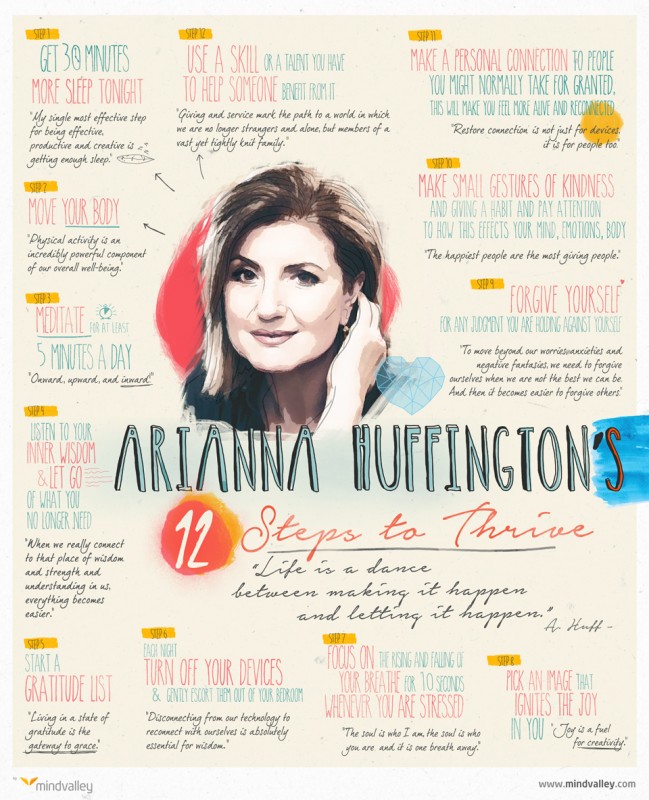 It's a collection of beautiful quotes by Arianna Huffington – founder of the Huffington Post and meditation advocate – and serves as a great blueprint of how to live a passion-filled life. 🙂
Which of these 12 steps to thrive are you most likely to use to change your live and promote more happiness in the world?
In Thrive, Arianna Huffington makes an impassioned and compelling case for the need to redefine what it means to be successful in today's world.
Arianna Huffington's personal wake-up call came in the form of a broken cheekbone and a nasty gash over her eye — the result of a fall brought on by exhaustion and lack of sleep. As the cofounder and editor-in-chief of the Huffington Post Media Group — one of the fastest growing media companies in the world — celebrated as one of the world's most influential women, and gracing the covers of magazines, she was, by any traditional measure, extraordinarily successful. Yet as she found herself going from brain MRI to CAT scan to echocardiogram, to find out if there was any underlying medical problem beyond exhaustion, she wondered is this really what success feels like?
As more and more people are coming to realize, there is far more to living a truly successful life than just earning a bigger salary and capturing a corner office. Our relentless pursuit of the two traditional metrics of success — money and power — has led to an epidemic of burnout and stress-related illnesses, and an erosion in the quality of our relationships, family life, and, ironically, our careers. In being connected to the world 24/7, we're losing our connection to what truly matters. Our current definition of success is, as Thrive shows, literally killing us. We need a new way forward. [Read More...]