This article, which first appeared on the Huffington Post, mentions 5 reasons why mindfulness will change the world in the 2014. It appeared on January 2 as Why 2014 Will Be The Year Of Mindful Living, and this is the first time I have had to review it.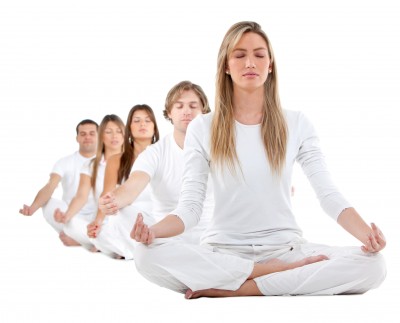 Before I go into the 5 reasons why mindfulness will change the world, let's consider what it means to live mindfully. The Community of Mindful Living is the name adopted by followers of Zen Master Thich Nhat Hanh (known as Thay by his followers) in Berkeley, California in 1983. Since then, the name has been used by Thay's global community called the sangha through the writings in the magazine and website, Mindfulness Bell.
One aspect of the Community of Mindful Living is that many members are also members of Thay's Order of Interbeing (OI) which is a sangha of monks, nuns, lay men, and lay women (the four-fold community) who agree to abide by the Fourteen Mindfulness Trainings of the Order of Interbeing. The OI was established in Vietnam in 1966 and now has many thousands of members.
I attended the morning session of a meeting of sangha facilitators in Northern California on Saturday, February 15. About 35 members of the Community of Mindful Living gathered together to discuss diversity and inclusiveness. One of the top takeaways was this statement read by one of the facilitators from Coming Home, by Sister Chan Chau Nghiem. She writes,
"If Buddhism is to really make a contribution to Western society, it must use the insights of the Dharma to heal the suffering of racism. Our teacher invites us to see Buddhism as a tree, always alive and growing. We have to contribute to it and renew it to ensure that it continues to grow strong and healthy. In applying the teachings to heal the pain of racism and prejudice, I am able to offer the beauty, wisdom, and experience of my ancestors to find new ways to express and live the insights of Buddhadharma. One day, maybe soon, I want to sing in a Buddhist gospel choir. When I think of the power of engaged Dharma, I know that my nephew's generation has a chance a living in a very different America. It is up to us."
 5 Reasons Why Mindfulness Will Change The World
Trendspotters are going all in for 2014.


"Mindfulness is part of a much larger trend we've been observing called mindful living," Ann Mack, director of trendspotting at JWT, told the Huffington Post. "It's kind of a counter-trend to the past decade of overly stimulated, ADD-afflicted, tech-saturated culture that we've been living in. What was once the domain of the spiritual set has filtered into the mainstream as more people are drawn to this idea of shutting out distractions and focusing on the moment."

People are Googling it like crazy.
Research at the University of Wisconsin (probably under the guidance of Richie Davidson) that mindfulness meditation actually alters gene expression in the body.
Major corporations are getting on board.


Google even offers its employees a program called Search Inside Yourself (SIY), a mindfulness-based emotional intelligence training program. Chade-Meng Tan, the program's founder and author of "Search Inside Yourself," told the Huffington Post that mindfulness can help build compassion, which can be beneficial to not only individuals and community, but also to corporate bottom lines.

"The one thing [that all companies should be doing] is promoting the awareness that compassion can and will be good for success and profits," said Tan.

Leaders are identifying themselves with it.
Just think of Steve Jobs, Jeff Weiner, and Oprah, among others.
Science has proven it's worth the hype.


Mounting research on the physical and mental health benefits of mindfulness has contributed to and helped to legitimize this growing interest in meditative practice. Recent studies have linked mindfulness with emotional stability and improved sleep, increased focus and memory, enhanced creativity, and lower stress levels, among a host of other positive health outcomes.
Which of these reasons will inspire you to join a community of mindful living? I am here to help you realize you goals of happiness and elimination of suffering. Please stay in touch.
It may be good for you to consider owning a copy of Search Inside Yourself to help you establish your community of mindful living.