These words of wisdom come on the Dalai Lama's Continuation Day. We wish him a very happy birthday to His Holiness the Dalai Lama from Meditation Practices and all the other sentient beings around the world.
As he says,
There are only two days in the year in which nothing can be done, one is called yesterday and another tomorrow. So today is the perfect day to love, believe, do, and mostly live.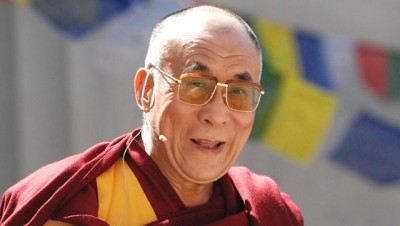 Knowing that nothing can be done about yesterday and nothing can be down about tomorrow, we can learn to live our lives today – in the present moment. After all is said and done, the only moment we have is the present moment. If we are not happy in the here and in the now, when will we be happy?
The Buddha is supposed to have said, "Do not dwell in the past, do not dream of the future, concentrate the mind on the present moment." This is the same teaching.
Zen Master Thich Nhat Hanh said, ""Hope is important because it can make the present moment less difficult to bear. If we believe that tomorrow will be better, we can bear a hardship today."
―in  Peace Is Every Step: The Path of Mindfulness in Everyday Life
On February 22, I had the pleasure of listening to the Dalai Lama's talk on The Nature of Mind at Davies Symphony Hall in San Francisco.  This talk will be coming to you within the next week or two, so please keep returning to this page.
by
Dalai Lama

An updated edition of a beloved classic, the original book on happiness, with new material from His Holiness the Dalai Lama and Dr. Howard Cutler.Nearly every time you see him, he's laughing, or at least smiling. And he makes everyone else around him feel like smiling. He's the … [Read More…]
I have read and enjoyed this book a couple of times. I listen to the book on tape on my iPhone in my care. You will probably want to order The Art of Happiness, 10th Anniversary Edition: A Handbook for Living.