When I was a younger man, I studied yoga with two amazing teachers in the same ashram (spiritual center) near Chicago. The main teacher was Swami Rama of the Himalayas, who I consider one of my root teachers.
His principal disciple at that time was Dr. Arya, who is now Swami Veda Bharati. I have recently been in touch with Swami Veda and continue to find inspiration from one of his very first teachings on yoga.
Dr. Arya said, "In life, we must celebrate transitions."
We all know about celebrating transitions such as getting married, having children, and getting a new job.
We don't pay too much attention to celebrating a lost job, a divorce, or other difficult transitions.
We probably don't think about the transition that occurs when we fall asleep or when we wake up. We don't think about the transition to sit down to a meal or put on our coat or get in our car. These can be celebrated too. We are still alive and able to experience the wonders of life, as Zen Master Thich Nhat Hanh would say.
When we celebrate a transition, we recognize the impermanence of all things.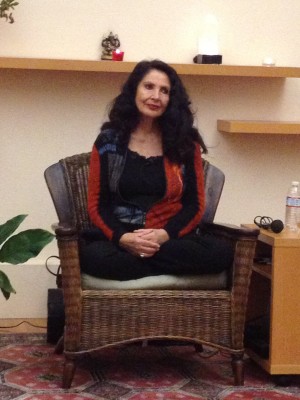 Last night, I celebrated a wonderful transition!
Sitting with my two daughters and about 20 yogis, we had darshan with Rama Jyoti Vernon. The email I received announcing her visit to the Stress Management Center of Marin (SMC) said,
Rama Jyoti Vernon is one of America's first Yoga teachers, and was instrumental in bringing many great teachers from India to the U.S. She founded the California Yoga Teachers Association, whose newsletter became Yoga Journal, and developed organizations such as Unity in Yoga, to unite all lineages of Yoga. As a housewife, mother and Yoga teacher, Rama began to apply Yoga philosophy in a whole new arena: international peacemaking. During the 1980s she made dozens of trips to the U.S.S.R, and founded the Center for International Dialogue, based on the idea that people can join together to initiate solutions for political, economic, ecological, humanitarian and cultural conflicts.
The event was a stura class for yoga teacher training at SMC. The title of her talk was Resolving Conflicts in our Lives using the Yoga Sutras.
Her stories about conflict resolution in Azerbaijan and Armenia and in Afghanistan were extremely moving. In both places, she managed to use the teachings of the Pantanjali Yoga Sutras (aphorisms) to bring about peace in these conflicted areas.
Pantanjali lived a few hundred years after the Buddha and was an author, poet,  and ayurvedic doctor. His Yoga Sutras are the foundation of all yoga.
Rama led us in chanting Om in a voice that one could hardly call human. It was so resonant that it filled the room and penetrated the hearts of everyone present. Om is the sound of the universe, the teacher of the most ancient.
She taught that the yoga sutras are a map of how one can become enlightened and live a pain-free life.
Regarding the first sutra, she asked the question, "How can we join when we have never been separated?"
We are here to see into our true nature and to see others as ourselves.
Her long stories of how she used active listening and non-violence to bring peace to warring factions in many parts of the world, including Russia, Israel and Afghanistan. These stories were truly amazing. It is not that she had to say much. She just had to hold the space to give peace a chance.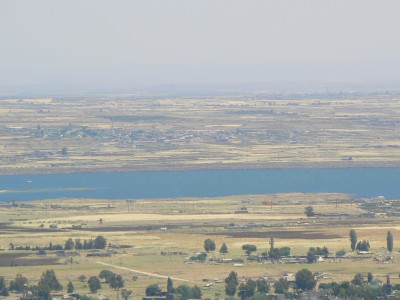 For example, while visiting a mountain in the Golan Heights in Israel that looks out in many directions to places like Syria and Lebanon, she reported the Dalai Lama saying something like, "I don't see any natural boundaries in this land." He began laughing!
During one of our short breaks from sitting all evening, we did an exercise about balance and one about fear. When we completed the exercise about fear, I stepped to the front of the room to ask her if she had met Swami Rama and Dr. Arya (Swami Veda Bharati). She told me that she had not seen Swami Rama alive, and that she was good friends with Swami Veda.
I told her a rapid-fire version of the above story about transitions. A few minutes later, when the class was once again seated, she asked me to talk about transitions.
I basically repeated what I had told her with slight elaboration for people who were not familiar with Swami Rama or Swami Veda. I felt honored to be able to contribute to this wonderful event.
In another story she talked about how Ram Das speaks of choiceless awareness in the present moment. This, to me, is the same thing as mindfulness.
Rama Jyoti spoke a lot about the yoga sutras. Some of the details were familiar to me, both from Buddha's teachings and studies with Swami Rama. I'm not going to go into these because of their somewhat technical nature.
She ended with chanting in a lovey voice that sounded other worldly. "Om Shanti Shanti Shanti!"
A beautiful evening was shared by all.