Thursday, June 18th, 2015 at 5pm Pacific Time
Special Bonus Below
Do you ever feel like there must be…more?
Regardless of how happy you are with your life, do you wish you felt more fulfilled and had a greater sense of purpose in the things you do throughout your day?
Even if you feel you're on the right path, chances are that no matter how hard you're working to achieve your goals, things aren't going as smoothly or moving as fast as you'd like.
Perhaps you also feel an urgency around further developing your unique talents and skills in order to help create a better world for yourself, your family, your friends, and everyone else.
If any of that resonates for you, I suspect you wish you knew exactly how to get from where you are now to where you want to be.
I want you to know that feeling this way makes you part of a passionate global awakening that is happening on a scale we've never seen before…
At this very moment, millions of people just like you are engaged in that same urgent struggle, trying to find ways to align themselves with a deeper sense of purpose in their lives.
The problem is that no one ever taught you the skills you need to be able to effectively infuse your daily life with that kind of meaning and purpose…
And to solve that problem, my friend and colleague, bestselling author and world-renowned human potential pioneer Dr. Jean Houston, has developed proven methods that will not only help you to live a life that is meaningful and fulfilling…
These methods will also help you begin to activate your full human potential and discover the true purpose of your life—the reason you are here on the Earth at this particular time in history.
Discover the Purpose of Your Life with Jean Houston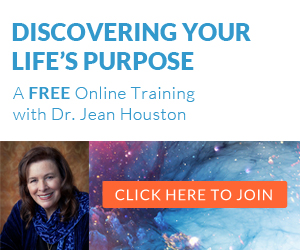 There is absolutely no charge to attend the seminar or participate in the introductory training.
In this short-but-intensive training, Dr. Houston will share with you some of what she's learned in her 50 years of research into human capacities and our relationship to the Universe itself.
What she's discovered will not only change your life profoundly, it will change your whole experience of life itself, making it more interesting and meaningful than you've even imagined possible.
Even if you think you already know what you're meant to do with your life, this training will help you to achieve success on a whole new level.
In the 85-minute "The 3 Keys To Discovering Your Life's Purpose" Audio Seminar and the 5-Part "Discovering Your Life's Purpose" Introductory Training, you'll learn how to access your higher self, transform old wounds, activate your deeper wisdom, access your "inner experts," develop new productive habits, and align everything—from your job to your friends to your community—around the singular calling of your life.
Jean Houston is an internationally renowned philosopher and scholar, and one of the founders of the Human Potential Movement. She's also written 27 books, including several bestsellers.
Special Bonus
Forward your online seminar registration to admin@2wellbeing.org and I will send you a special bonus just for signing up! The bonus is related to the seminar in a special way.
Won't you join me on June 18?