Please join me in wishing a Happy Continuation to Thich Nhat Hanh (Thay) on his 90th continuation day today!
The Thich Nhat Hanh Foundation had invited people to submit a three minute video of how we continue Thay. This is similar to what I had to say in my video: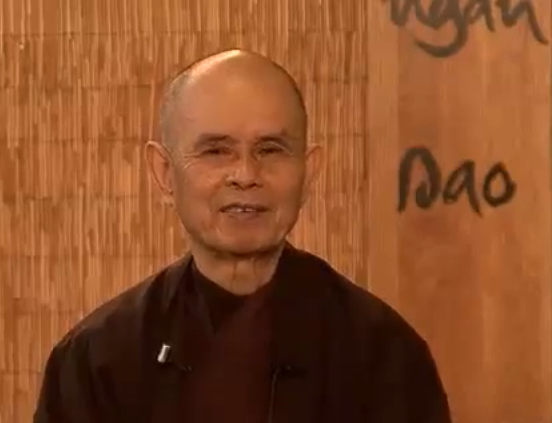 Continue in Good Health

My name is Jerome Freedman (True Precious Light) from Greenbrae, California. I continue Thay by leading the Mindfulness In Healing Sangha at the Pine Street Clinic in San Anselmo, California since 2009. I continue Thay by teaching mindfulness to mothers in my neighborhood. I continue Thay by daily practice on my own and with the Earth Holder Sangha. My books, guided meditations and blog articles feature Thay and many are dedicated to him.

I take great joy in the insight I had in June of 2015 about lymphocytes in the brain from talking with Dr. Quac Vo when he was treating my wife. This led to Dr. Vo treating Thay both in San Francisco last year and in Plum Village. Sister Chan Khong told me in person last year that 80% of Thay's recovery can be attributed to Dr. Vo.

I wish to express my appreciation and gratitude for the many visits I've shared with Thay, especially the 1997 retreat at UC Santa Barbara just seven months after I first was diagnosed with bladder cancer and the time I had breakfast in his room with Sister Chan Khong in the winter of 2006. At the breakfast we discussed "healthy cells grow all by themselves," from a poem I wrote at the beginning of my cancer.
The discovery of lymphocytes in the brain took place in Sweden in 2015. Dr. Vo did a presentation on them in Hong Kong in June of 2015 and when I asked him if he thought that if he could do something for someone with a stroke, he was sure he could help. I contacted the Order of Interbeing to find out who was in charge of Thay's care and Brother Phap Lin responded, a meeting was set up, and Dr. Vo began to treat Thay. Please join me in thanking Dr. Vo for all he as done for our teacher without charge.
Last Tuesday, I had the pleasure of spending the evening with Sister Chan Khong and other members of Thay's community of monks, nuns, lay men and lay women. She told us many details about Thay's illness and recovery that I had not heard before. I was truly grateful that she personally thanked me for introducing Dr. Vo to Thay.
Will you join me in wishing Zen Master Thich Nhat Hanh a Happy Continuation today?