I offer this post in memory of Dr. Martin Luther King. He and Zen Master Thich Nhat Hanh knew each other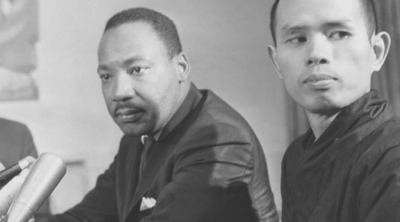 and were friends. They both worked diligently for human rights and to stop the war in Vietnam. Dr. King even nominated Thich Nhat Hanh for the Nobel Peace Prize.
In a letter to his followers on December 5, 2008, Thich Nhat Hanh wrote of Martin Luther King:
The monastic and lay communities rely on each other, support each other, practice transformation and help living beings. The sangha body is a beautiful community of four integral parts – monks, nuns, laymen, laywomen – "realizing harmony, awareness and liberation…" The civil rights activist Dr. Martin Luther King, Jr. had hoped to build a community like that: a community that has happiness, brotherhood, and also the capacity to fight for the good of society. He called it the "beloved community." It's a pity that he was assassinated in Memphis when he was 39 years old, and that particular beautiful dream of his was never realized. We are more fortunate: we are able to build sanghas everywhere, so that every place will become our homeland. ("The Sangha body is everywhere; my true home is right here.") We have been able to continue, and to realize, the aspiration of Martin Luther King: cultivating brotherhood in our daily practice, living joyfully and helping others.

I remember the last time I met Dr. King, in Switzerland, at the "Pacem In Terris" conference organized by the World Council of Churches in 1968. Dr. King stayed with his assistant on the 11th floor in the big hotel where the conference was taking place. I stayed on the ground floor with just one lay assistant. Dr. King invited me to have breakfast with him so we could talk. Because I was busy with a press conference, I was half an hour late, but Dr. King had kept my breakfast warm. In that meeting, I had the opportunity to tell him: "The friends in Vietnam really support you, and they see you as a living bodhisattva." He was very happy to hear that. Every time I think back on that meeting, I feel glad I was able to tell him that, because a few months later he was assassinated.
50 years ago on August 28 Dr. Martin Luther King delivered his famous speech, "I have a dream…"
About 12.5 minutes into the speech, the "I have
I say to you today, my friends, though, even though we face the difficulties of today and tomorrow, I still have a dream. It is a dream deeply rooted in the American dream. I have a dream that one day this nation will rise up, live out the true meaning of its creed: "We hold these truths to be self-evident, that all men are created equal."

I have a dream that one day on the red hills of Georgia sons of former slaves and the sons of former slave-owners will be able to sit down together at the table of brotherhood. I have a dream that one day even the state of Mississippi, a state sweltering with the heat of injustice, sweltering with the heat of oppression, will be transformed into an oasis of freedom and justice.

I have a dream that my four little children will one day live in a nation where they will not be judged by the color of their skin but by the content of their character. I have a dream . . . I have a dream that one day in Alabama, with its vicious racists, with its governor having his lips dripping with the words of interposition and nullification, one day right there in Alabama little black boys and black girls will be able to join hands with little white boyis and white girls as sisters and brothers.

I have a dream today . . . I have a dream that one day every valley shall be exalted, every hill and mountain shall be made low. The rough places will be made plain, aad the crooked places will be made straight. And the glory of the Lord shall be revealed, and all flesh shall see it together. This is our hope. This is the faith that I go back to the South with. With this faith we will be able to hew out of the mountain of despair a stone of hope. With this faith we will be able to transform the jangling discords of our nation into a beautiful symphony cf brotherhood. With this faith we will be able to work together, to pray together, to struggle together, to go to
jail together, to stand up for freedom together, knowing that we will he free one day.
Watching this video greatly moved me and made me appreciate more the efforts Dr. Martin Luther King, Jr. made to bring equality to African Americans. I also felt a lot of gratitude in his contribution to ending the war in Vietnam.
How far have we come to realize his dream?
Please watch the video and tell me what you think.