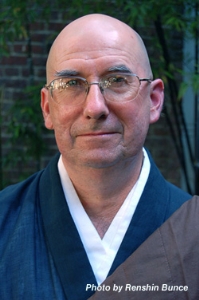 I just learned that Zen Master Myogen Steve Stucky passed away on December 31, 2013 – just a couple of days ago.
He was a wonderful man and beloved teacher. In the 1980's, I sat Zen meditation with him in his home in Mill Valley with many other devoted students. He will be deeply missed by me and his community at the San Francisco Zen Center (SFCZ).
Steve was SFZC's first central abbot. He died in his home in Rohnert Park, California at the age 67.
The SFZC wrote the following:
Since receiving a diagnosis of stage IV pancreatic cancer in late September, he has been widely admired for courageously sharing publicly his ongoing personal process of living with terminal illness, first in a dharma talk titled "Gratitude," given two days after receiving his diagnosis, and subsequently with posts on his Subtle Eye blog. His longtime emphasis on body practice—learning from and respecting the body—took on a particular poignancy in the months leading up to his death. As he said in his talk, "Each of us can do something, right up to the last moment." …

As a young adult, a driving question for Steve was about how reality is perceived, and how to clear the doors of perception. In Chicago in 1971 a friend, Bob Lewis, gave him a copy of The Three Pillars of Zen, by Philip Kapleau. Eventually he read Zen Mind, Beginners Mind and became interested in Shunryu Suzuki Roshi. In 1972 he hitchiked to San Francisco, at first sleeping in Golden Gate Park and stashing his sleeping bag in the bushes during the day in order to go to meditation at San Francisco Zen Center.

He stayed for the next eight years, studying with various Zen teachers, including Zentatsu Richard Baker, Dainin Katagiri, Robert Aitken and Tenshin Reb Anderson, and residing at each of Zen Center's three temples during that time. He played a particularly important role at Green Gulch Farm from its Zen Center beginnings, when no other pioneer resident had any farming experience.

From 1983 to 2006, he supported his family as a householder priest by designing and building many gardens as a landscape designer/contractor, and living in Mill Valley, San Rafael and Rohnert Park. Not surprisingly, as a Zen teacher he was known for emphasizing a solid respect for the earth and the environment, as reflected in statements such as: "Each human body is independent and simultaneously the entire earth. A tree is as much a part of me as my shoulder. . . . I'm very grateful to have this practice. It sustains me and will continue to sustain me to the last moment of consciousness." [Read More…]
I, too was greatly influenced by The Three Pillars of Zen and Zen Mind, Beginners Mind. Even though I sat in a 7 day sesshin (retreat with ceremonial practices) with Dainin Katagiri in 1972, I did not consider myself a Buddhist until I had read these two books in 1984.
Around that time, I started attending Sunday morning events at Green Gulch Farm and met Reb Anderson and Norman Fischer. On Monday nights, I would go to sit at Steve's house, which I did for many years until my father passed away.
One night in 1993 or 1994, I went to the San Francisco Symphony and who did I see there? Reb Anderson! I told him that I had stopped coming to Zen Center because I played tennis as part of my spiritual practice. I think he was impressed and recognized that sitting Zazen and playing tennis with mindfulness lead to similar results.
Steve touched my life deeply and I am saddened by his passing as I was when I heard he had cancer.
May he rest in peace.
May his heart fly open.
May he continue to know the beauty and the radiance of this own Buddhanature.
May he be free.
If you have any feelings about Myogen Steve Stucky, won't you please share them with us?