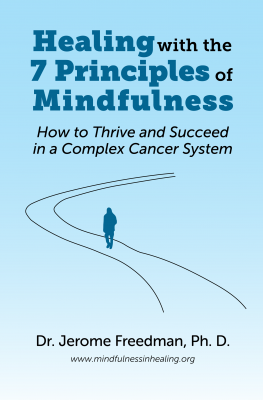 During the past few weeks, I have been anxious about how my dharma talk on the Seven Principles of Mindfulness in Healing was going to turn out at The Club at Harbor Point last Thursday night (August 20, 2015). Now I am wondering, "Is anxiety useful?" Was being anxious useful to me during the time of preparation? Or was it just good stress?
A couple of days ago, I came across this quote from Neil Fiore, a psychologist, cancer survivor, and fellow author of I Am With You: Love Letters to Cancer Patients. He basically said, "…anxiety is energy that cannot be used now." Here's the full quote:
"Calling up the stress response to deal with dangers that are not happening now is similar to pulling a fire alarm for a fire that happened twenty years ago or to fearing a fire that may happen next year. It would be unfair to the fire department and a misuse of its time and energy to ask firefighters to respond to such an alarm, just as it's unfair to demand that your body continually respond to threats of danger from events that cannot be tackled now. As I say in my seminars, anxiety is energy that cannot be used now. When you focus that trapped energy on action in the present moment, you release it and experience excitement and effectiveness."
— Neil Fiore from Awaken Your Strongest Self
The amazing thing is that the night before the presentation as I was doing my evening meditation, it dawned on me to take advantage of the wonderful endorsement that I received from Dr. Kelly Turner last month. She wrote,
"Dr. Freedman speaks from experience, both as a cancer survivor himself, and the father of a Radical Remission cancer survivor. His book, "Healing with 7 Principles of Mindfulness" gives readers a nurturing, helping hand throughout the entire cancer journey, especially with regard to developing a meditation practice."
–Kelly Turner, PhD, Author of the NYTimes Bestseller "Radical Remission: Surviving Cancer Against All Odds"
I changed the presentation to introduce the Seven Principles of Mindfulness in Healing from the perspective of Kelly's nine factors of radical remission. This provided a bonafide external authority on the value of the seven principles.
The dharma talk was extraordinary! There were fifty people present – more than any other talk at Harbor Point. The questions were all wonderful and I think a people got a lot out of it.
I am happy and grateful for all the people who showed up and expressed their interest in the Seven Principles of Mindfulness in Healing. I am also grateful to the staff at Harbor Point who helped make the talk so successful. Thank you very much!
Are you ready for the next one?
---
by
Kelly A. Turner

In her New York Times bestseller, Radical Remission: Surviving Cancer Against All Odds, Dr. Kelly A. Turner, founder of the Radical Remission Project, uncovers nine factors that can lead to a spontaneous remission from cancer—even after conventional medicine has failed.

[Read More…]