I am happy to pass on Zen Master Thich Nhat Hanh's practice phrases for the New Year. The phrases are
Joy within me,
Joy all around
and
New year,
New me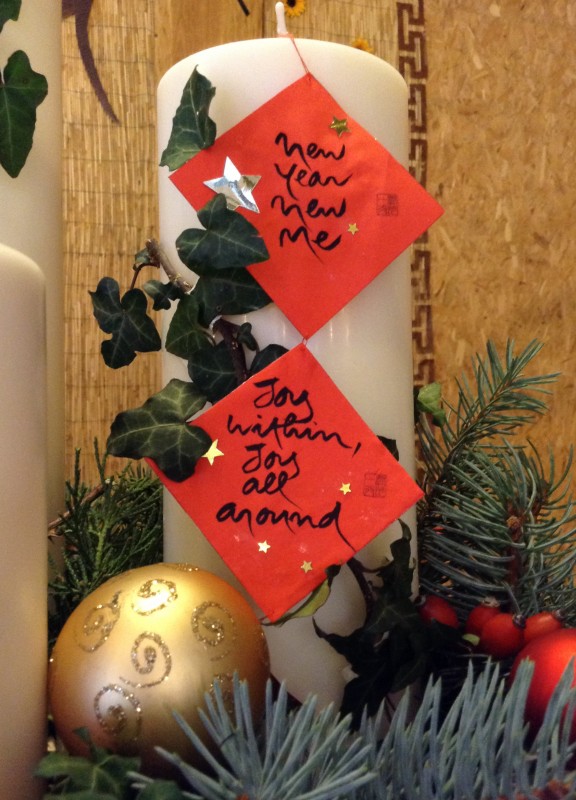 These words of wisdom express my wishes that we all have a Happy New Year with peace, gratitude, harmony, and compassion in our hearts.
These are actually practice phrases for the new Lunar New Year, the Year of the Horse. Since they arrived in time for the New Year of 2014, I am happy to share them with you. The Plum Village website tells us how to practice with them:
The practice phrases are a traditional parallel verse (also known as a "couplet") for the Lunar New Year. They are a poetic gift and reminder to practice mindfulness.

As with other Plum Village practice verses, the couplet can be combined with our breathing. For example, we breathe in as we contemplate "Joy within", and breathe out as we offer "Joy all around". It is not just a declaration, it is a realization. We take the opportunity to touch off the seed of joy that is already there within us, and to share it with all around.

In Plum Village practice centers all around the world we print out these calligraphies (keeping the diamond form), paste them onto colored card, and pin them up around the dining halls, meditation halls and living quarters. During the Lunar New Year we hang them (with the help of a little cotton thread) from early-blossoming Japonica and Plum branches that we bring in to brighten our rooms. [Read More…]
You can download the separate images from the Plum Village website.
What are your plans for spiritual growth in 2014? Will these couplets help you with your practices? Please share.