In previous posts, we have reported on the scientific studies from the University of Wisconsin.
Many of these studies were performed under the guidance of Dr. Richie Davidson.
He is the director of the Laboratory for Affective Neuroscience, Waisman Laboratory for Brain Imaging & Behavior, and Center for Investigating Healthy Minds at the University.
His research focuses on affective neuroscience, a field of investigation that he inaugurated.
He is also a frequent presenter at the Dalai Lama's Mind and Life Institute.
This study, apparently by Dr Bruce Barrett, shows that mindfulness eases inflammation and promotes well-being.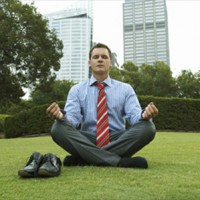 A new research says that meditation can be extremely effective at preventing winter ailments like cold and flu.
According to a study from the University of Wisconsin Madison, adults who meditated or did moderately intense exercise, such as a brisk walk, for eight weeks suffered fewer colds than those who did nothing.

…

Last year we reported in this news column that meditation can reduce inflammation but now a new study has shown that not mindfulness meditation not only reduces inflammation, but it reduces inflammation more effectively than some other behavioural …[more]
So far this winter, I have not had an upper respiratory illness. Know on wood!
God knows that the weather in California has been quite cold and sometimes rainy.
Do you think it is because of my daily meditation practice and playing tennis four times a week? Please share!

Old Price: $25.95
Price: $13.36

Buy this book! It is a must read if you are at all interested in the Emotional Life of Your Brain! I couldn't put it down.