There has been a lot of discussion about the 5 Contemplations on the OI1 discussion group lately. In the previous article I reported on some issues my dharma brothers were having and compared two versions of the 5 Contemplations with each other.
One of the principle areas of discussion was related to the second contemplation, "May we eat with mindfulness and gratitude so as to be worthy to receive this food." People commented on the possible evolution of the use of "worthiness" in this contemplations.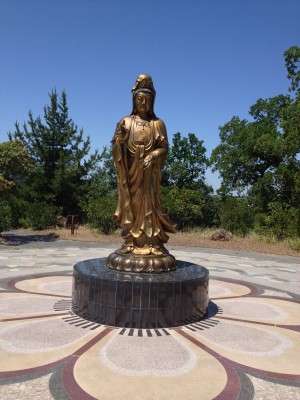 In our visit to the Buddha Gate Monastery in Lafayette, California on Sunday, March 16, I asked the Shifu (the abbess and head dharma teacher) about the Chan2 practices of Buddha Gate Monastery3. I found out that Lin Chi (Linji) is the spiritual ancestor of the tradition practiced at the Buddha Gate Monastery as well as in Plum Village.
One of the practices of Buddha Gate Monastery corresponds to the Five Contemplations of Plum Village. I found the five contemplations carved into the left side wall in the front of the dining room:
This offering is the fruit of many's hard work and care.
Reflecting on my conduct, "Am I worthy of a share."
Be weary of the poisons, the foremost being greed.
Seeing food as medicine, I take only what I need.
Solely for the cultivation, to realize the Buddha way, with gratitude I accept this offering today.
There is a nice rhyme to these five contemplations. The were accompanied by the Chinese verses on the right side of the dinning room front wall.
Compare the second contemplation from Plum Village quoted above with 'Reflecting on my conduct, "Am I worthy of a share."' The similarity is there. The Buddha Gate version asks us to reflect on our worthiness to receive our share of the food, rather than speculate how we may become worthy.
I ask you, brothers and sisters, do you think that the Buddha Gate reflection on worthiness resolves any uncertainty you may have on the idea of being worthy to receive the food? Please share your thoughts.
1The OI is the Order of Interbeing, a sangha of practitioners in the Plum Village Tradition of Zen Master Thich Nhat Hanh. We pledge to study, practice, and observe the Fourteen Mindfulness Trainings and relieve the suffering of the world.
2"Zen" is Japanese translation of the Chinese word, "Chan." In fact, Chan preceded Zen by at least 400 years.
3The sangha at Buddha Gate Monastery also practice the five precepts, which are related to the Five Mindfulness Trainings. The five precepts are No Killing, No Stealing, No Sexual Misconduct, No Lying, and No Intoxicants.