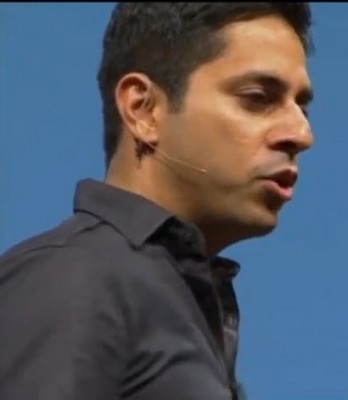 Vishen Lakhiani is the founder of Mindvalley, the fastest growing business in the advancement of humanity and personal development. In this video Vishen shares about flow, the ultimate state of human existence. The talk is titled, "Why happiness is the new productivity."
Vishen appeared at the Engage Today event in Calgary with Sir Richard Branson, the Dalai Lama, Tony Hsieh (founder of Zappos.com), and others. His talk was considered to be one of the best of the entire conference.
The ultimate state of human existence is flow. Vishen gives us 10 tips on how to master flow. Wikipedia defines flow as,
Flow is the mental state of operation in which the person is fully immersed in what he or she is doing by a feeling of energized focus, full involvement, and success in the process of activity. It is a state of supreme creativity.
Flow is a balance of being happy in the present moment, and havign a vision of the future. He also talks about The Four States Of Mind, which we have already published.
He presents the paradox of intention: you must have goals, but your happiness cannot be tied to them. You must be happy first. He saya, "If you are not in a career or business that you are passionate about, get out!"
Here are the 10 tips to maintain the state of flow:
Daily gratitude – We have seen the importance of being grateful for what you have, here and now, without craving for things in the future. Mindvalley particpates in a gratitude log website: http://grattitudelog.com. Lynn Twist says, "What you appreciate, appreciates." Expressing gratitude daily increases happiness by 25%.
Awesomeness report – At Mindvalley, they have an awesomeness report of cool stories of things the employees of Mindvalley did. This formalizes the practice of gratitude. "I blind people with the light of my awesomeness."
Share profits – 10% goes straight to the employees.
The sweet sugar love machine – Each employee is trained tolavish praise on each other.
45-5 rule – Mindvalley employees only work 45 hours in a week so they can spend time with their families, but they must get their work done. Also, they must spend 5 hours a week learning new stuff.
Weekly sharing and training – People at Mindvalley share their knowledge with other staff members.
Group meditation  – Vishen and others lead a guided meditation to help them visualize their lives 6-12 months down the road. This builds up their vision of their future.
Company sponsored fun – They have great parties. These work out better for recruiting than job ads!
Positive stamina – Employees are trained to remember only the good moments of your life. They learn to create a brand new vision rather than focusing on problems. Positive stamina comes from this quote: "Learn to manage your mind. Do not let a situation lure you into thinking negatively. Sometimes you'll fail, but you'll learn for the next time. Every time a negative thought comes at you, zap it. Replace it with positive thoughts. That takes energy but the result will be stamina. Positive stamina. A necessary ingredient for success." I will give a free Achieve Goals Guided Meditation to the first person who knows who said this.
Experiences and connections – The five closest people you hang out with you will become like. Vishen works with the self-image of his employees and creates friendships.
The Dalai Lama said, "You are happy when you help others become happy." This is the bottom line!
Watch the video to get the full impact of Vishen's talk. It's worth your time.
Mindvalley is offering a free survey from Christie Marie Sheldon. Considering all of the above, don't you want to try taking the survey?