Between 2004 and 2008, I read books by Eckhart Tolle as fast as they came to my local library. I found his teachings to be quite wonderful and inspiring.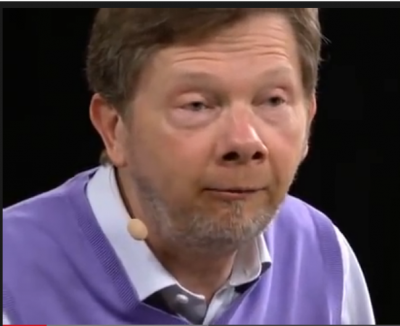 I remember listening to The Power of Now in the car on the way up to Eugene, Oregon with my daughter as we drove to the University of Oregon for her last year of undergraduate work. My children are used to this kind of audiobook and she was no exception. Frequently, we would stop the playback and take time to discuss one thing or another.
Luminita Saviuc, who we have seen before, has written the 27 lessons from Eckhart Tolle. I have omitted the quotes form Eckhart Tolle, but you can find them on Lumita's site.
Enjoy! 🙂
1. The present moment is the most precious thing there is.

2. Wherever you are, be there totally.

3. Always say "yes" to the present moment.

4. Life will give you whatever experience is most helpful for the evolution of your consciousness.

5. Don't take life so seriously.

6. Love is not to be found outside of you.

7. The more you dwell on the negative, the more obsessed with negative things your mind becomes.

8. When you complain, you make yourself into a victim. 

9. There is a fine balance between honoring the past and losing yourself in it.

10. Letting go requires strength and a lot of courage.

11. You are a Human Being not a human doing.

12. Give up defining yourself and others.

13. You are more than your mind.

14. Where there is true love, there is no ego.

15. Whatever you fight, you strengthen, and what you resist, persists.

16. Power over others is weakness disguised as strength.

17. Every addiction starts with pain and ends with pain.

18. Exclusivity is not the love of God but the "love" of ego.

19. Seek to live authentically.

20. We don't "see" God as He is, we see God as we are.

21. Seeking is the antithesis of happiness.

22. What you give is what you get.

23. Any action is often better than no action.

24. If you make the fountain pure, all will be pure.

25. The mind is a superb instrument if used rightly.

26. Worry is a waste of time.

27. If the structures of the human mind remain unchanged, we will always end up re-creating the same world.


[Read More…]
For me, the importance of the present moment are the most significant lessons. Lessons 1-3 are all about the present moment.
Which of these lessons is the most powerful for you?
by
Eckhart Tolle

It's no wonder that

The Power of Now

has sold over 2 million copies worldwide and has been translated into over 30 foreign languages. Much more than simple principles and platitudes, the book takes readers on an inspiring spiritual journey to find their true and deepest self and reach…

[Read More…]

by
Eckhart Tolle

With his bestselling spiritual guide The Power of Now, Eckhart Tolle inspired millions of readers to discover the freedom and joy of a life lived "in the now." In A New Earth, Tolle expands on these powerful ideas to show how transcending our ego-based state of consciousness is not… [Read More…]