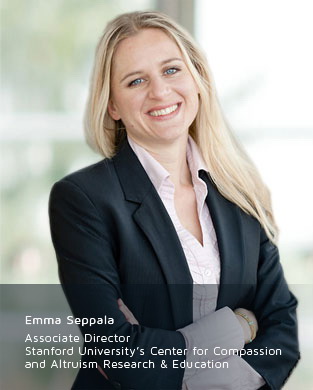 Below are 6 mindfulness practices for the holidays that will help alleviate anxiety, stress, and loneliness. So says Dr. Emma Seppala, the Associate Director of the Center for Compassion and Altruism Research and Education (CCARE) at Stanford University.
A link on the CCARE website led to Emma's article on Psychology Today titled, 6 Quick and Easy Mindfulness Tips to Combat Holiday Stress. Dr. Seppala begins with the following introduction, which I really like:
Is holiday season stressful or even lonely? Heard about the scientific benefits of mindfulness but just don't see how you could fit it in? Especially during the holidays? We often mistakenly think meditation requires sitting in lotus posture, preferably on a lotus flower in the middle of a still lake in Thailand with birds chirping in the background. Although that would be nice, it's clearly not always possible and the good news is that it's not necessary either! No matter what we are doing—whether it is commuting or traveling, eating or talking, sitting around or doing chores, each of these activities presents an opportunity for mindfulness! Here are 6 easy ways to integrate mindfulness into your holidays (and any day)!

6 Mindfulness Practices For The Holidays
Driving in commute hours and traveling to remote locations can be done mindfully. Remember that the happiest minds are those that are focused on the present moment. Practice fully accepting the present moment just as it is.
During meals, while everyone is grabbing their food, take a moment to eat mindfully. Contemplate the following: "This food is the gift of the whole universe – the earth, the sky, many sentient beings, and a lot of hard work. May I eat in mindfulness in order to express my gratitude for such an abundant life."
Practice deep listening and loving speech when conversing with others. Deep listening is compassionate listening with your full attention on your friend or family member who is speaking. This is one of the greatest gifts you can offer your loved ones.
Rest mindfully during "couch potato time." Simply take a 5 minutes to watch your breathing and recharge your batteries.
Do your chores mindfully, with full attention. As Suzuki Roshi says, "Wash the dishes to wash the dishes."
Practice gratitude anytime, especially this week. Be grateful for all you have and share of your time, energy, and material resources with those in need.
How will you prepare yourself for tomorrow with these six mindfulness practices for the holidays? Which one would work best for you?