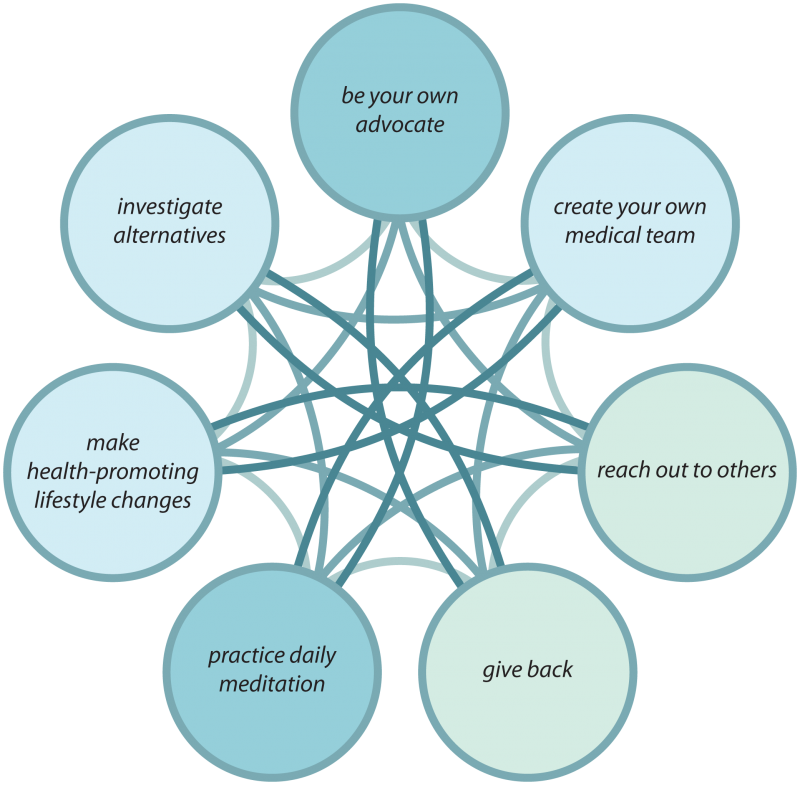 The 7 principles of Mindfulness in Healing are pervasive throughout the book, Stop Cancer in its Tracks: Your Path to Mindfulness in Healing Yourself, if only implicitly. They have been part of my life since I began studying and practicing meditation and learning about natural healing. They probably date back to the time before my son had cancer in 1976 – see Mind Stories Helped Cure Cancer.
Be an advocate for your own health care. This means to take charge of your own health care and not leave everything up to the doctors. It is fine to listen to them and understand what they are asking you to do.

However, you must take responsibility for your healing by being actively involved and being willing to explore possibilities. Getting second and third opinions may help.

Talking to friends and relatives who are knowledgeable about health matters can help.

Most of all, unless you have extreme circumstances, take a few days to think things over.
Investigate alternatives and complementary healing methods to enhance your healing. Many alternative treatments can relieve a lot of stress and suffering just by participating in them.

To name a few, we have found that acupuncture, massage, Qi Gong, yoga and other movement therapies, meditation, and creative expression can really help.

In participating in these kinds of activities, you are encouraged to do as much or as little as you feel comfortable doing.
Have a healing professional who knows about your standard medical treatment plan and complementary medicine to manage your well-being. Most people have only their primary physician or surgeon to rely on for medical care. Your primary doctor may be able to fulfill this role.

While this may be adequate in many circumstances, we have found it beneficial to converse and rely on advice from other competent practitioners. They can give you a perspective that is "outside the box" of standard medical practice.
Gather your friends and family for support and find an appropriate support group. We have found that the support of friends and family is extremely beneficial.

In addition, taking part in organized support groups helps everyone. Dr. Daniel Goleman has reported in his books that a significant amount of benefit can be gained from participation in support groups. Participating in such groups can improve longevity by as much as 40%.
Find out about the best possible lifestyle changes in diet, nutrition, supplements, and exercise that can improve your overall health. Lifestyle changes can be one of the most important factors for your recovery.

Studies at the University of Massachusetts in the Mindfulness Based Stress Reduction program over the past 32 years have shown that opting for a vegetarian diet along with yoga and meditation practice can reduce symptoms and even help develop unexpected cures.

Dr. Dean Ornish has proven that the right kind of diet and exercise can reverse heart disease.
Give back to your community when the time is right. Your community supports healing efforts and you will experience a lot of joy when you feel comfortable contributing to the benefit of others.
Develop a daily mindfulness practice to cope with changes in physical, emotional, mental, and spiritual states with equanimity. One of the best things you can do for yourself is to develop a daily meditation practice. It is possible to start with just nine minutes a day and build up to 30 or more minutes.
These principles are easy to adapt to just about any lifestyle. Most likely, you'll have to make some adjustments, however.
Taking on the attitude of becoming your own advocate for health care is an important way to begin. It is considered the entry point to the 7 principles of Mindfulness in Healing, and probably really essential. Without this attitude, it can be difficult to embrace the other principles.
Each one is valuable in its own right and they all work together to enhance your life and create the best possible mindset for a complete recovery.
For example, exploring alternative and complementary care (i.e., integrative medicine, principle #2) does not require a healing professional that is familiar with both conventional medical practices and integrative medicine (principle #3), but in my experience, having Michael Broffman at the Pine Street Clinic as my healing professional was a tremendous benefit.
I have found that my mindfulness practices have helped me integrate all 7 principles of Mindfulness in Healing. In the book, you will discover how I used many mindfulness practices at various stages in my healing process.
One of the turning points occurred on the Vernal Equinox of 1997. I had a very powerful guided imagery session which served as the path for healing myself and inspiration to continue practicing. This imagery session was also the motivation for the title of the book and the cover image.
Other practices included sitting meditation, walking meditation, mindful movements, dance, creative writing and drawing, and meditation in bed when I couldn't do anything else. Being on retreat with Zen Master Thich Nhat Hanh came at a perfect time and provided me with a lot of love and support at a time when it was badly needed.
As I enter my seventeenth year of living with cancer, I find that meditation practices keep me on track with my healing experience and provide me with a refuge from fear, doubt, uncertainty, and worry. I feel that they are strong enough to help me embrace any situation I find myself in with regard to cancer and health issues.
Returning to my true home – my mindfulness of the present moment – relieves the stress of having to think about consequences, obstacles, and worst case scenarios. I stay on top of my feelings and this helps keep my family from feeling morose about my situation.
Which of these principles are you using in your daily life? Which ones present the most problems? How can I help you understand?