I have a confession to make to you, my readers.
In 1971, we learned about the Arica forty day training created by Oscar Ichazo in Arica, Chile.
Of course, it was out of the question for us to go there with a 2-year-old and no money, but we learned all we could about the Enneagram, Arica Psychocalesthenics and some of their other techniques.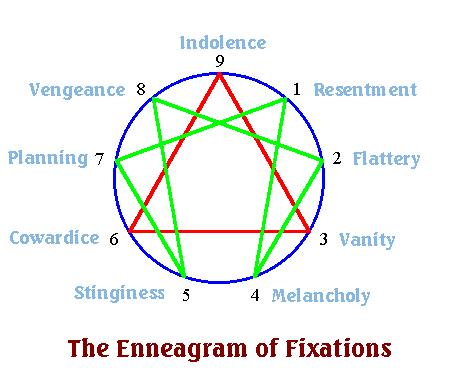 The next summer, we met Rabbi Zalman Schachter at the Lama Foundation in New Mexico and later that summer, he introduced us to Dr. Claudio Naranjo – the very person that brought the Enneagram teachings to the United States and helped develop the Fisher-Hoffman Process which is now the Hoffman Process.
In 1974, I was invited to take a class with Claudio on the Enneagram in an elegant house in Berkeley.
I walked into the room on the first day and Claudio took one look at me and said, "Here we have a doubter!" (point 6 on the Enneagram).
Of course, and this is my confession, I doubted it, but over the course of many years of study with Helen Palmer, I began to realize that Claudio was correct.
Now I experience the fear, doubt and cowardice of point 6 when I am lost in my head and not present for my life experience.
So, why am I telling you all of this?
I want to celebrate the recent bug fixes to the Enneagram Instrument website which has been on line in one form or another since 1994.
This was in the days before PayPal and more than 1,000 people sent me checks for $18 to submit their Enneagram Instrument forms which I manually entered into the software I had written, scored and sent them an email with their results.
Now, to celebrate the improved automation of the Enneagram Instrument, I am offering for a limited time only, two bonuses for anyone who orders by May 9, 2016 (buy one for your mother:)! :
A guided meditation of your choice (Achieve Goals, Weight Loss, Stress Reduction, Relieve Symptoms, Anger Control and Sound Sleep)
A digital copy of Know Your Type! Awaken Your Potential1
The Enneagram is a 9-sided diagram which describes nine personality types and their passions, fixations, idealization and virtues. You can learn a lot about yourself by studying the Enneagram.
---
1If you have already purchased this book, I will substitute my best selling eBook, Cosmology and Buddhist Thought: A Conversation with Neil deGrasse Tyson.