Shunryu Suzuki Roshi was the founding teacher of the San Francisco Zen Center. His simple teachings have inspired many new dharma teachers such as Myogen Steve Stucky, Zoketsu Norman Fischer, Wendy Johnson, and many others.
My first experience at the San Francisco Zen Center was in 1972. I did a seven day sesshin there with Dainin Katagiri Roshi.
A sesshin is basically a retreat in the Zen tradition. You sit all day doing zazen (sitting meditation) with breaks for meals, teisho (dharma talk) by the Zen Master, and dokusan (interviews with the teacher). There is very little social interaction and everyone walks around with their heads looking down.
The sesshin was very intensive, with meditation beginning at 4:00 AM and lights out at 9:30 PM. All that sitting caused me to have  back pain and joint pain in the knees and hips. I made it through the whole sesshin after all.
In my one dokusan with Daini Katagiri, I talked to him about the relationship between just sitting and the just standing of the redwood trees I had recently visited in Muir Woods. I often think of that moment as my first real experience with zen.
"If your mind is empty, it is always ready for anything, it is open to everything. In the beginner's mind there are many possibilities, but in the expert's mind there are few. "
― Shunryu Suzuki, Zen Mind, Beginner's Mind: Informal Talks on Zen Meditation and Practice
Compare this quote with the one in this pictograph: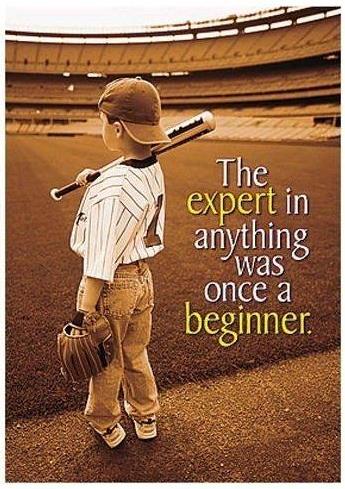 The message here is virtually the same as what Suzuki Roshi said, except for one thing.
Suzuki Roshi is telling us not to become an expert, but to retain our beginner's mind in our practice and in our life.
I find that when I have to lay off from tennis for more than a week or three that I come back to play with a beginner's mind. This can also be true in other aspects of life.
Do you want to learn how to obtain a beginner's mind? I'd like to help. Please ask me your questions.
Do you want to become and expert and give up your beginner's mind? What is your choice?
---
by
Shunryu Suzuki

"In the beginner's mind there are many possibilities, but in the expert's there are few."

So begins this most beloved of all American Zen books. Seldom has such a small handful of words provided a teaching as rich as has this famous opening line. In a single stroke, the simple sentence … [Read More…]