These words of wisdom are from the former grand abbot of the San Francisco Zen Center, Myogen Steve Stucky. He passed away on December 31, 2013, a little over three months after being diagnosed with pancreatic cancer.
On December 27, Steve offered the following Death Poem. which appeared on his website, Subtle Eye:
Many Zen priests follow a form for writing death poems such as this, sometimes even with regularity throughout their lives.

DEATH POEM

This human body truly is the entire cosmos
Each breath of mine, is equally one of yours, my darling
This tender abiding in "my" life
Is the fierce glowing fire of inner earth
Linking with all pre-phenomena
Flashing to the distant horizon
From "right here now" to "just this"
Now the horizon itself
Drops away—
Bodhi! Svaha.

Myogen
12/27/13
Tricycle Daily Dharma February 3, 2014
The Bodhisattva's Edge
| | | |
| --- | --- | --- |
| | Whatever you feel is right at the edge of your familiar world, that's the edge of your bodhisattva vow, the edge of your deep intention to wake up with what is. | |
– Myogen Steve Stücky, "The Three Friends of Winter"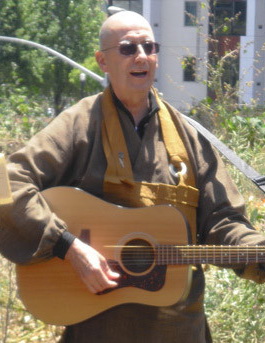 I was deeply saddened to learn about Steve's illness. I got on the "visitor list," but I never got to see him. I was even more saddened by his death.
I'll always remember him as he was in the small living room in his home in Mill Valley, California. I sat zazen with him and other practitioners on Monday nights for many months in 1987 and 1988. I found him to posses many qualities at the bodhisattva's edge.
He was kind, compassionate, and listened well. The glint in his eyes when he would explain some of the zen meditation practices is memorable. His love for the three jewels was totally visible.
The last time I visited his home was the Monday after my father died. I don't remember why I stopped coming after that. I think my dad's passing away dampened my spirits and I just didn't feel like going. I hope to be able to attend Steve's memorial service at Green Gulch Zen Center today.