These words of wisdom came to me from the Cloud Cottage Community of Mindful Living. These words were written by Joanna Macy, who we wrote about just a few days ago. See, for example, Taking Action For The Benefit Of All Beings.
Vietnamese Zen master Thich Nhat Hanh is one of the most beloved Buddhist teachers in the West, a rare combination of mystic, poet, scholar, and activist.  His luminous presence and the simple, compassionate clarity of his writings have touched countless lives.  Free of dogma, he shows us how attentive, respectful mindfulness can heal our souls and our world, and bring us home, in joy, to the living body of Earth and kinship with all beings. In 1967 Thich Nhat Hanh was nominated by Dr. Martin Luther King Jr. for the Nobel Peace Prize.  His valiant work during the Vietnam War, helping victims on both sides of the conflict and his chairing of the Vietnamese Buddhist Peace Delegation, had inspired me long before I met him at the United Nations Special Session on Disarmament in 1982.  There, at a forum of religious leaders that resounded with moral pronouncements, he entered quietly, moved to the dias with no prepared speech in his hand. "I haven't much to say," he said, "but on my way here I wrote a poem."  From the pocket of his brown monk's coat he took a crumpled paper, and read aloud the verses printed below, "Please Call Me By My True Names" — and then he sat down. Based in Plum Village in southern France, Thich Nhat Hanh's ministry to our troubled world has continued to grow. Among his many books, The Miracle of Mindfulness, The Sun My Heart,and Living Buddha, Living Christ are already spiritual classics. He also brings us his personal presence, traveling widely in Europe, Asia and North America, where he has helped many Vietnam veterans heal their psychic wounds. His lay Order of Interbeing offers support for a life of responsible, nonviolent service to the healing of our world.

–by Joanna Macy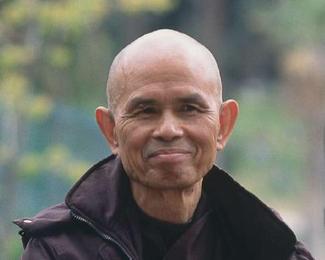 I am totally in accord with what Joanna Macy wrote. I find it interesting that his quote came to me just after reprinting Please Call me by My True Names, and Taking Action For The Benefit Of All Beings.
What are your thoughts about Thay's presentation of Please Call me by My True Names at United Nations Special Session on Disarmament?
A Classic