These words of wisdom from Pema Chodron came from the Tricycle Daily Dharma on April 15.
Pema is the director of Gampo Abbey – one of the few Buddhist centers in North America that maintain the traditional monastic precepts. Zen Master Thich Nhat Hanh calls these the Five Mindfulness Trainings, which his has revived from the monastic tradition for the modern age.
She has been a celibate nun for twenty years and a teacher beyond reproach in terms of ethical conduct. She is  the foremost representatives of the Vajrayana lineage of Chögyam Trungpa Rinpoche.
Pema talks about give up addictions in many of her books and recorded retreats. When she talks about addictions, she talks about her own experience as a person who was born in New York City. I remember her saying how much she loves her grandchildren, but how much they can still tap her addictions.
---
Giving Up Addictions | April 15, 2014
---
Starting to wake up is a lot like giving up an addiction. You're going to go through withdrawal symptoms, weaning yourself from this addiction to habitual, small-minded patterns of perception. You could say enlightenment is no more addiction. You're just fully awake, fully on the spot, without having to hide out.
—Pema Chödrön, "No Right, No Wrong"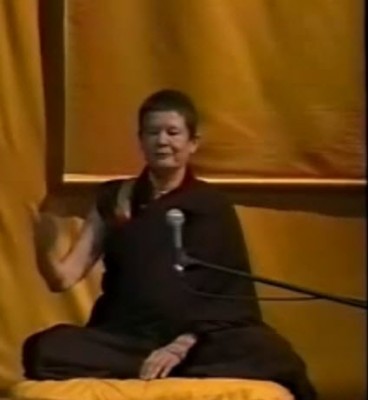 When I think of addictions, I think of those security, sensation and power addictions that keep me trying to control situations in my life and those of my family. When I find myself in one of these addictions, I recognize that I have lost my center and need to take a few deep breaths to come home once again to the present moment. Instead of trying to control these situations, I tend to retreat and allow things to happen. This seems to work out better.
Pema is one of my favorite Buddhist teachers. You may enjoy listening to her recorded retreats to become familiar with her sense of humor, her wisdom, and compassion.
Do you have any addictions that you are ready to give up? What are they? How do they destroy your serenity?
Try These Books
I listened to both of these books on tape (which I now have transferred to my iPhone) over and over again. They are truly exceptional.