Healing cancer with the truth about cancer is your best bet if you have cancer or know someone who does. In my book, Healing Cancer with Your Mind: 7 Strategies to Help YOU Survive, I offered these basic strategies:
Get inspired to take charge of your medical treatment, be involved with and be truthfully informed by your doctors, oncologists, and surgeons.
Investigate which alternative and complementary medical practices can benefit you and your situation.
Discover the lifestyle changes you may want to make to better you healing chances.
Learn how meditation practices can help you make responsible decisions for your care and feel confident that you made the right decision and much more.
Rely on your family and friends to get things done for you that you can't do for yourself.
Build a medical team of physicians and other practitioners that you can trust.
Give back to your community when you are ready and able.
Now you can see these strategies in action if you watch the upcoming docuseries from The Truth About Cancer: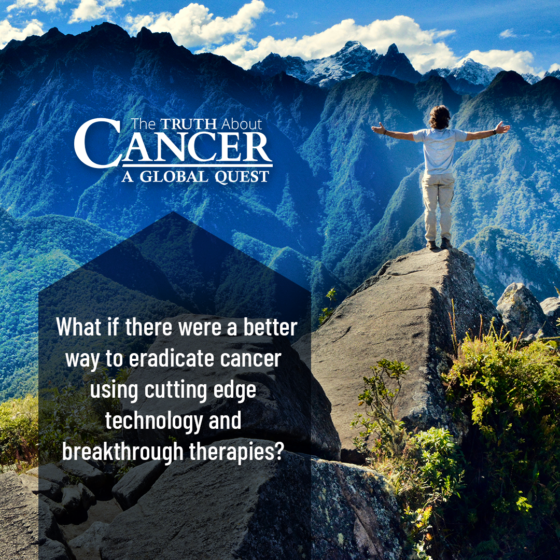 After the tragic loss of several family members to cancer, my friends Ty and Charlene Bollinger found it difficult to believe that chemotherapy, radiation, and surgery were the most effective way to treat cancer patients. They went on a Global Quest to find safe and effective alternatives to conventional medicine, and their documentary will bring you stories of hope, healing, and survival.
This docuseries is free to watch from the comfort of your own home, but only for a short time. The first episode airs October 9th, so click the link below to get access to the episode.
Special Offer
If you purchase the series, please send me a copy of our receipt and I will send you PDFs of Healing Cancer with Your Mind and Stop Cancer in its Tracks, two ebooks that will surely help you or your loved one heal better.
Healing Cancer with Your Mind has been reviewed by people like Kelly Turner, PhD, Martin Rossman, MD and Anna Halprin. Here's what Dr. Rossman wrote:
"As a physician who has practiced holistic medicine, now called Integrative Medicine, for over 4 decades, I can attest to the value of the strategies that Dr. Freedman recommends including in your treatment program." — Martin Rossman, MD, author of The Worry Solution and Guided Imagery for Self-Healing
Stop Cancer in its Tracks traces my thoughts, feelings and treatments in the first few years of cancer treatment. It describes how I opted to spare my bladder, which I am still doing today, after almost 22 years!