Seven Principles of Mindfulness in Healing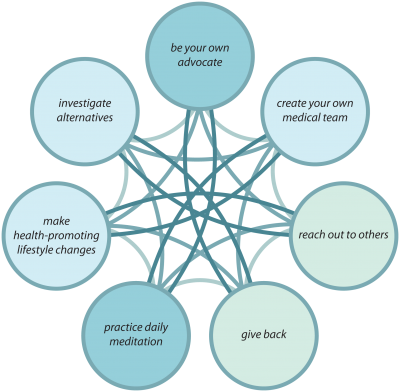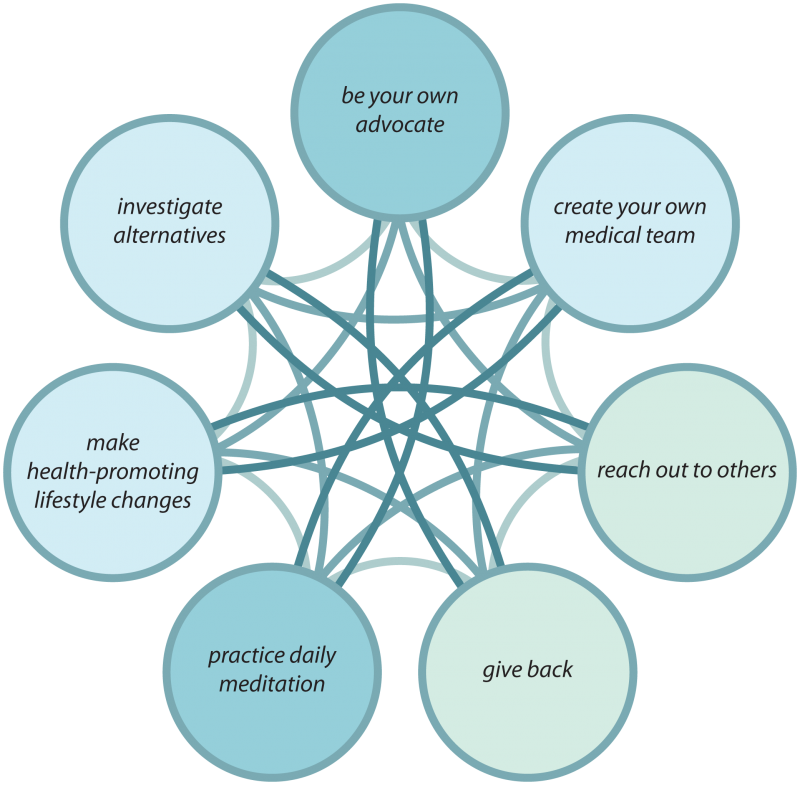 The Seven Principles of Mindfulness in Healing have been formulated over the past 38 years – ever since my son was stricken with metastatic kidney cancer at the age of seven. Up until now, they have been implicit in everything I did for my son and for myself. When I first was diagnosed with muscle invasive bladder cancer in 1997 and then again at the end 2013, I immediately applied these principles and now I am cancer free.
At the beginning of 2012, I began making these principles explicit so that I could share them with other people suffering with all kinds of cancer and other diseases in the form of a book. The book title is
Healing with the Seven Principles of Mindfulness:
How to Thrive and Succeed in a Complex Cancer System

The Seven Principles are the fruition of my healing experience and my mindfulness meditation practice.
This book will appeal to anyone with cancer who is willing to think about becoming their own advocate for standard medical treatment. It also will appeal to people with other illnesses who want to take charge of their healing experience. It provides a unique approach to healing that incorporates the best of modern medical treatment with ancient mindfulness meditation practices and recommendations for alternative medical treatments, lifestyle changes and support opportunities.
The Seven Principles of Mindfulness in Healing will teach people how to be their own advocate for healthcare. They will learn how to investigate alternatives and make health-promoting lifestyle changes. They will be offered many different types of meditation practices that they can choose from and do on a daily basis. They will be instructed in how to create their own medical team. They will recognize the importance of reaching out to others, and, when they are ready, to give back to their communities.
Becoming your own advocate for healthcare is the first stop on the path to well-being. This is the entry point into the Seven Principles of Mindfulness in Healing. Once you adopt this principle, a daily meditation practice provides you with the foundation to recognize what is going on in your body, your feelings, your thoughts and your mind. With just nine minutes a day, you can learn to calm your mind and make the right choices for your medical care.
Seven Principles of Mindfulness in Healing
BE YOUR OWN ADVOCATE: Take a stand and be in control of your healing experience. Don't just roll over and let the medical establishment run over you.
INVESTIGATE ALTERNATIVES: There is a magical world of alternative therapies that will further your healing and give you a sense of well-being on the journey to wellness.
MAKE HEALTH-PROMOTING LIFESTYLE CHANGES: These will include opting for healthy dietary choices and energizing exercises.
PRACTICE DAILY MEDITATION: Tune into yourself to discover your body sensations, thoughts, and feelings.
CREATE YOUR OWN MEDICAL TEAM: Look for experts who know both Eastern and Western methods to get the widest range of medical support.
REACH OUT TO OTHERS: Ask family and friends for support and join a support group to share healing challenges and experiences.
GIVE BACK: When you are ready, you will find joy and meaning in helping other people and giving back to your community.
Copyright (©) 1997, 2012, 2015, Dr. Jerome Freedman, Ph.D. Contact jerome@mountainsangha.org for more information.