I am writing this post in memory of my beloved teacher, Gabrielle Roth. She died last night from lung cancer.
May her memory be a blessing to everyone she touched.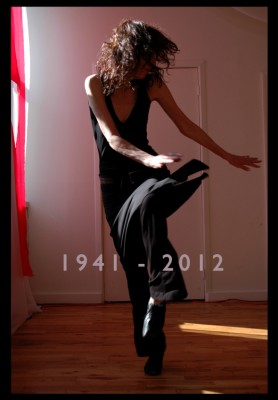 And boy, did she touch me!
I spent several years working with her and was with her when she began the Moving Center.
Before then, we were just a bunch of hippies getting together to dance to the apparent arbitrary rhythms chosen by Gabrielle and a handful of wonderful musicians.
Through the Moving Center, she developed the 5Rhythms.
The 5Rhythms are states of being: flowing, staccato, chaos, lyrical and stillness.
They are a map to everywhere we want to go, on all planes of consciousness – inner and outer, forward and back, physical, emotional and intellectual. They are markers on the way back to a real self; a vulnerable, wild passionate, instinctive self.
Why Dance Them? In dancing them you can unearth a freestyle movement vocabulary rooted in unexpected, fresh ways of moving – visceral and highly personal.

In dancing them you can track perceptions and memories, seek out gestures and shapes; tune into instincts and intuitions. They reveal ways to creatively express aggressiveness and vulnerability, emotions and anxieties, edges and ecstasies. They reconnect us to cycles of birth, death and renewal and hook us up to the spirit in all living things. They initiate us back into the wisdom of our bodies and unleash movement's dynamic healing power.

Dancing the 5Rhythms is a practice … a dynamic way to both workout and to meditate in the same breath. A wise old Taoist once said: "An ounce of practice is worth a ton of theory." Whether on the subway or the ski slope [or tennis court, in my case!], in the emergency room or the boardroom, practicing the five rhythms helps us become attuned to the underlying patterns in our everyday existence. They teach us that life is energy in motion, freeing us from any fixed notions about people, places, objects or ideas.

The 5Rhythms are my offering to a world in crisis to help us find our voice and become a vehicle for change and renewal. As Anita Roddick said, "Anyone who thinks they are too small to make a difference has not spent the night with a mosquito."

In dancing them, the body becomes our spiritual path.
The above excerpt from Gabrielle's website may inspire you to look into her teachings and perhaps find a teacher yourself.
My own personal indebtedness to Gabrielle goes back to when my son had cancer. I was supposed to assist her at one of her visits to Esalen Institute in Big Sur, California. The morning we were leaving I got a call from my ex-wife who told me that Micah was in the hospital and he had a Wilm's tumor – a cancer of the kidney. He was only seven years old.
When I told Gabrielle that I could not attend, she was deeply moved. She vowed to harness the energy of the 40 or 50 women in her workshop to send prayers to Micah. When I spoke to her later, she reported that all the women were touched by Micah's condition and they had kept him in mind during their whole time at Esalen.
Earlier that year, Gabrielle and I put on a fund raiser (which made no profit) in honor of Bhagwan Shree Rajneesh who had inspired both of us. Over 250 people came to the Scottish Rite Temple in San Francisco. The event was a massive spiritual success, but only broke even financially.
Our paths have crossed quit a few times since them. Early on, I attended a few events where she led the 5Rhythms. My path had taken a different turn and I always will remember those moments when they crossed.
With true love in my heart, I offer these blessings to Gabriell, Jonathan, Robert and all those who also love her.
May we be at peace.
May our hearts remain open.
May we know the beauty and the radiance of our Buddha nature.
May we be healthy.
May we be free of suffering.
May we be happy, truly happy!
If you know of Gabrielle's work or even if you don't please share these blessing with your family and friends.