Yesterday, we learned a lot about volition and what we want to do in our lives – our inner and outer purpose.
Mostly, as spiritual seekers, our inner and outer purpose may not be that obvious to us.
Eckart Tolle tells us what Einstein wanted to accomplish and tells us why we are confused: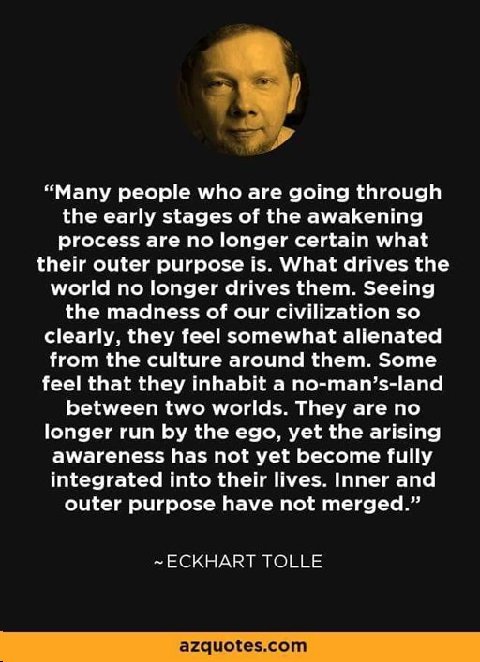 "I want to know the mind of God," Einstein said. "The rest are details." What is the mind of God? Consciousness. What does it mean to know the mind of God? To be aware. What are the details? Your outer purpose, and whatever happens outwardly.

So while you are still waiting for something significant in your life, you may not realize that the most significant thing that can happen to a human being has already happened within you: the beginning of the separation process of thinking and awareness.

Many people who are going through the early stages of the awakening process are no longer certain what their outer purpose is. What drives the world no longer drives them. Seeing the madness of our civilization so clearly, they may feel somewhat alienated from the culture around them. Some feel that they inhabit a no-man's-land between two worlds. They are no longer run by the ego, yet the arising awareness has not yet become fully integrated into their lives. Inner and outer purpose have not merged.

– Eckhart Tolle from A New Earth: Awakening to Your Life's Purpose
What is your inner and outer purpose and how are you manifesting it?
---
by
Eckhart Tolle

The highly anticipated follow-up to the 2,000,000 copy bestselling inspirational book, The Power of Now

With his bestselling spiritual guide The Power of Now, Eckhart Tolle inspired millions of readers to discover the freedom and joy of a life lived "in the now." In …