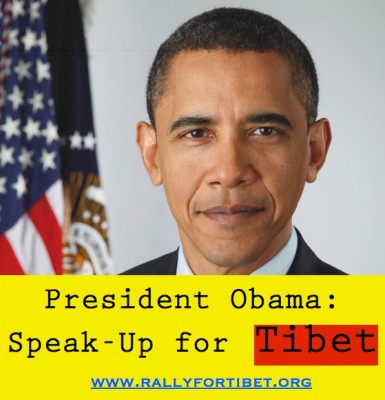 The International Campaign for Tibet (ICT) is urging us to speak up for Tibet by signing a petition to President Obama.
The ICT is collaborating with the Tibetan community and Tibet groups to hold a rally in Washington D. C. on Monday, October 7, 2013. Events will take place at the Lincoln Memorial, Lafayette Park, and in front of the White House. For more information, visit the Rally for Tibet website.
The website states that the situation in Tibet is worsening:
China's severe and worsening crackdown in Tibet has provoked an unprecedented wave of self-immolations by Tibetan monks, nuns and laypeople, with at least 121 confirmed self-immolation protests since 2009.  In the last five years there has been a surge in non-violent protests by Tibetans in Tibet, notably in 2008 but increasing again since early 2012, with demonstrators calling for freedom in Tibet and for the return of the Dalai Lama. The Chinese government has been using military forces to suppress peaceful Tibetans, even opening fire on them.

In August hundreds of Tibetans peacefully protested against Chinese mining in local area that are considered sacred. In respond to their demand, Chinese authorities sent hundreds of armed security to crackdown on the protesters. Many protesters were injured from beating and many were taken into custody.  Click here to see images of the protest and police crackdown.
The petition asks President Obama to take an active stance in a just solution for Tibet.
This petition urges President Obama to:
Take a proactive role to press Chinese leaders to respect the aspirations of the Tibetan people
Make respect for universal values and fundamental human rights as the foundation of US policy toward China and Tibet
Take the lead in engaging proactively with partner nations to ensure collaborative and coordinated engagement with the Chinese government including but not limited to allowing access by independent and impartial monitors to assess conditions on the ground, especially by allowing the 12 outstanding requests by UN special rapporteurs.
Whether you are able to join the ICT for the rally on October 7 or not, please take just a couple of minutes out of your busy day to speak up for Tibet in sending a strong message to President Obama asking him to make Tibet a priority.
Thank you for your dedication to working toward a just solution for Tibet.
I have been supporting the International Campaign for many years now. I believe that a just solution is possible.
Won't you please sign the petition to President Obama? I am truly grateful for your support on behalf of the ICT and the people of Tibet.