Pema Chodron, in these words of wisdom from Tricycle gives us the answer that is blowing in the wind about our ability to take a step into the unknown. This is called renunciation.
Renunciation, in Buddhism, is a step in the direction of becoming a monastic. When a person decides to become a monastic, they feel a sort of renunciation distress, having to give up all of their former lives.
For us lay people, when we fail to renounce our cravings, or clingings, our desires, we also feel some sort of renunciation distress. What will happen to my happiness with this car, this house, this girl or boy, this high tech gadget, and so forth? We find it hard to let go, even for a moment.
But what happens when we let go? All of the distress goes away and we feel relieved and happy.
---
Blowin' in the Wind | July 29, 2014
---
How do we renounce? How do we work with this tendency to block and to freeze and to refuse to take another step toward the unknown? If our edge is like a huge stone wall with a door in it, how do we learn to open the door and step through it again and again, so that life becomes a process of growing up, becoming more and more fearless and flexible, more and more able to play like a raven in the wind? [Read More…]
Pema Chodron, "Like a Raven in the Wind"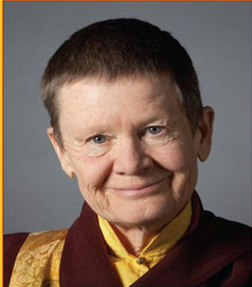 Do you want to try an exercise in renunciation? How about renouncing TV for 7 days? What do you think? How will you use this information on how to renounce? Please share.
About Pema, Tricycle writes,
Pema Chödrön is an American nun in the Kagyu lineage of Tibetan Buddhism, and the director of Gampo Abbey, on Cape Breton, Nova Scotia, the first monastery in the Tibetan Vajrayana tradition in North America. After practicing for almost twenty years, she now represents one of the most respected examples of the transmission of Buddhist teachings to American disciples….she began looking for spiritual guidance, and soon became the student of the late Chogyam Trungpa Rinpoche. In 1974, she received the nun's novice ordination from His Holiness Gyalwa Karmapa and, at his request, took the full nun's ordination in Hong Kong in 1981. Like a Raven in the Wind was adapted from a talk given during a one-month practice period.  [Read More…]
---
These are two of my favorite books by Pema. I have the books on tape and I listen to them frequently, especially on long air flights on my iPhone.
Enjoy!
by
Pema Chodron

The beautiful practicality of her teaching has made Pema Chödrön one of the most beloved of contemporary American spiritual authors among Buddhists and non-Buddhists alike. A collection of talks she gave between 1987 and 1994, the book is a treasury of wisdom for going on living when we are overco… [Read More…]

by
Pema Chodron

We always have a choice, Pema Chödrön teaches: We can let the circumstances of our lives harden us and make us increasingly resentful and afraid, or we can let them soften us and make us kinder. Here Pema provides the tools to deal with the problems and difficulties that life throws our way. This … [Read More…]