These words of wisdom from Ogyen Trinley Dorje, the seventeenth Karmapa, are about the nature of interbeing. He calls it interdependence, as do most Buddhist teachers and masters.
Interbeing is a term coined by Zen Master Thich Nhat Hanh, and the nature of interbeing is one of his principle teachings. He says, "Interbeing is not a theory; it is a reality that can be directly experienced by each of us at any moment."
---
We Cannot Survive Alone | March 31, 2015
---
The food we eat, the clothes we wear, the air we breathe have all arisen interdependently. We cannot survive alone. We cannot eat, wear clothes, or breathe alone. The more keenly we are aware of this, the more we will begin to take responsibility for the welfare of other beings.
– Ogyen Trinley Dorje, "Tibetan Buddhist Leader Blazes an Innovative Trail"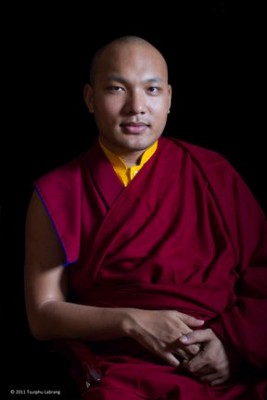 To take this concept a little further, Thich Nhat Hanh founded the Order of Interbeing (OI) in 1966 with only six members. Now, there are over a thousand members and more monks, nuns, lay men, and lay women are ordained every year. I was ordained in 2008 in a small ceremony in Oakland, California.
OI members agree to live their lives according to the Fourteen Mindfulness Trainings. These give us insight into interbeing as well as a path to wisdom and compassion.
---
by
Ogyen Trinley Dorje Karmapa

Advice and encouragement from a leading young spiritual teacher on how to live with compassion, ethical principles, and bravery in the face of the global challenges facing humanity.

In his first major book, the Karmapa, a charismatic 28-year-old emerging leader of Tibetan Buddhism, off… [Read More…]