The Weekly Words of Wisdom chosen by Lama Surya Das were spoken by my teacher, Zen Master Thich Nhat Hanh.
I have heard him say many times over the years of practice with him that the next Buddha may be a sangha – a community of practitioners working together to bring peace, love, and joy to all sentient beings.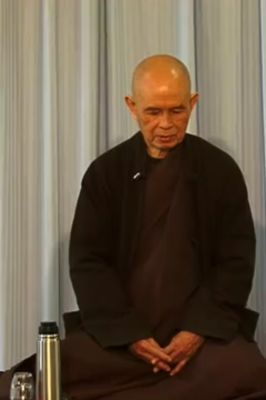 "The Buddha, Shakyamuni, our teacher, predicted that the next Buddha would be Maitreya, the Buddha of love…. It is possible that the next Buddha will not take the form of an individual. The next Buddha may take the form of a community, a community practicing understanding and loving kindness, a community practicing mindful living. And the practice can be carried out as a group, as a city, as a nation."
—Thich Nhat Hanh, "The Next Buddha May Be A Sangha"
in Inquiring Mind journal, Spring 1994.

My thoughts about this is that maybe we are living in the time of Maitreya.
The great yogi, Padmasambhava said, "When the iron bird flies, the dharma will go to the West." The dharma has come to the West in the form of many wonderful Buddhist teachers and practices.
We have teachings of Tibetan, Thai, Vietnamese, Burmese, Indian, Chinese, and many other masters available at the click of a mouse.
Our understanding of cosmology and neurology have provided insights into the nature of our universe outside and within.
Meditation practices have been scientifically verified to provide all the benefits the teachers have taught us.
What are your thoughts and feelings about Maitreya, the next Buddha? Please share.