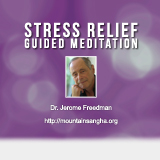 Dr. Sara Gottfried and I offer 3 tips for reducing stress and this short video.
As you must know by now, stress is officially a disease as serious as a heart attack. It can also lead to many other problems such as headache, back pain, heart palpitations, high blood pressure, decreased immunity, stomach problems, insomnia, anxiety, anger, insecurity, forgetfulness, burnout, eating disorders, social withdrawal, and many other symptoms as well.
Clearly, you can't live your life under so much stress. You must train your body to use the relaxation response, instead. Simply buy Stress Relief Guided Meditation and you will naturally learn the relaxation response in your own terms.
Dr. Gottfried reports that women are "overwhelmed, tapped out, irritated, not sleeping." The 3 tips for reducing stress are
Tiara time – this is when you step out of your regular activities and take time for yourself. You put on a tiara and tell your kids, "Mommy is taking tiara time. See you in 15 minutes." Her prescription is for 3 times per week. I say twice a day, every day!
A new kind of cocktail – and it's not alcohol, which raises the stress hormone, cortisol. She recommends you take two proven supplements: phosphatidylserin and rhodiola. I've heard that these are wonderful and will probably be taking them myself in the not to distant future. They lower your cortisol levels when they are too high.
Buy Stress Relief Guided Meditation 🙂 – learn to breath deeply from your abdomen, bring your attention into your breath, body, and feelings, and recognize when stress is present.
Do you know anyone who could benefit from these 3 tips for reducing stress? If so, please tell them.
Buy This Book