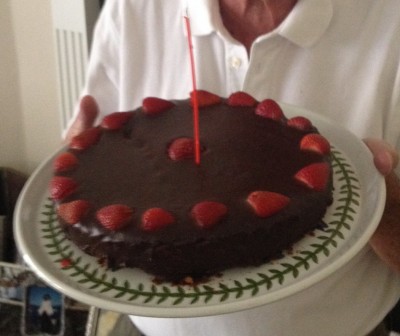 I celebrated my continuation day on October 8. Micah arrived from Ashland, Oregon on the 6th. Rachael was sill in San Diego and was scheduled on a flight to arrive in San Francisco at 9:50 AM on the morning of the 8th.
I had planned to pick her up at the airport and meet Micah and my wife, Mala at Out The Door, a great restaurant in San Francisco. We chose the restaurant so that Rachael could go to work just after lunch. She had an errand to run for her job in the city, so we thought this would be a good solution.
It turns out that the plane she was on broke down and her flight was cancelled.
The next flight to the Bay Area was to Oakland, which was to arrive at 11:15!
Ah! Let's just pick her up and go to Kirala in Berkeley!
Well, Micah got caught up in a business call so we couldn't leave the house until 11:15. I told Rachael to take a taxi to Kirala and we would meet her there.
In Kirala I experienced a coincidence that opened my heart big time.
When we first arrived, Andrea, who lost her husband, Lech on July 7. Naturally, I shuffled over to her to wish her well and give her a big hug! She seems to be coping very well and has a lot to do.
When we were about finished eating, Rachael noticed Kirstin Anderson sitting across the room from us. It was her father, John, who had passed on September, 29, the same day Jessica left for Spain.
We all went over to her and hugged her to tears. Her grief was apparent and so was her love for her dad and for us.
Mala's friendship with the Andersons goes back more than 40 years. They quickly became my friends also when I first met them. John was strong, handsome, and lovable. He was an emergency physician in Nashville, Tennessee for 33 years. He had non Hodgkin's lymphoma and the treatment he received worked for 10 years.
While we were driving home, I was feeling the impact of all my friends who died during the year and my heart just opened to them all, especially to Andrea and Kirstin. The feeling was a litte of grief and sadness mixed with compassion. Tears were welling up in my eyes and I found it difficult to speak. Yet, when all is said and done, there was an element of happiness that I could feel things so deeply.
This experience brought home to me something that Zen Master Thich Nhat Hanh has been talking about for decades. He teaches us that happiness and suffering inter-are. That is, happiness and suffering are interdependent, just like the lotus and the mud. No lotus, no mud. No mud, no lotus. No suffering, no happiness. No happiness, no suffering.
Have you had a recent experience of deep meaning for yourself? Please describe it.