Baba Hari Dass was not present yesterday at the Mount Madonna Center when my daughter received her diploma as an Ayurvedic Lifestyle Counselor after more than 400 hours of training. His spirit was there in the hearts of everyone who knows and loves him.
Babaji is on silent retreat and has not spoke a word since 1952. He writes on a small blackboard.
He is a master yogi and a proponent of ayuraveda, the ancient system of health and healing from India.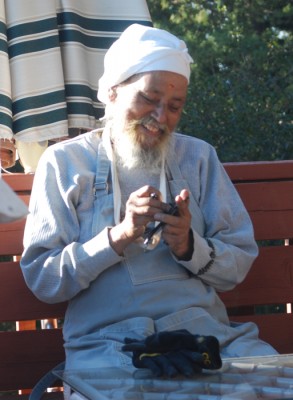 "Cultivate a sympathetic heart, humility in dealings, and selflessness in action. If these are practiced with earnestness and sincerity, then you will win the race of life."
– Baba Hari Dass,
from the Graduation Program, July 28,2013

At the graduation exercises, Babaji's presence was deeply felt in the loving speech of all the presenters.
In addition to the Ayurvedic programs, the Mount Madonna Center offers Yoga Teacher Training and retreats of all kinds. Located in the Santa Cruz Mountains between Santa Cruz and Monterey, California, it provides a health and healing environment all year around.
How will you wind the race of life?