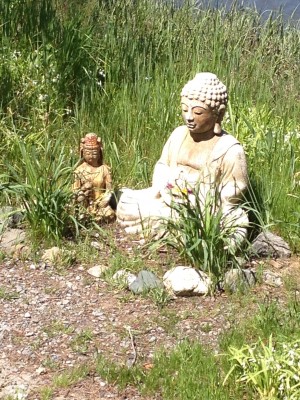 Over the past many years, I have used the following sets if practice phrases for the four Divine Abodes also known as the brahma viharas, sublime abodes, immeasurable minds and so on. I discovered these many years ago and have been studying them ever since. I  believe that they have changed my life in significant ways, and that is another story. Here are the sets of phrases that I use:
1. Thanks to Phillip Moffitt
May I be safe from inner and outer harm.
May I have a calm, clear mind and a peaceful, loving heart.
May I be physically strong, healthy and vital.
May I experience love joy, wonder and wisdom in this life just as it is.
2.
May I be peaceful and at ease.
May my heart remain open.
May I know the beauty and the radiance of my own Buddhanature (true nature).
May I be happy, truly happy.
3. Thanks to BK (there is a melody)
May I be filled with loving kindness.
May I be well.
May I be peaceful and ate ease.
May I be happy.
4. Inspired by Kristen Neff
May I be healthy.
May I be free.
May I be kind to myself and others.
May I accept my live as it is.
5. Inspired by Roshi Bernie Glassman
May I rest in not knowing thereby not being attached to view about myself and life.
May I bear witness to the joys and sufferings in my life and in the world.
May I take loving action for the benefit of all beings.
6.
May I be safe and secure.
May I be strong and healthy.
May I be accepted and loved.
7.
May I relax in body and mind.
May I let go of my false personality.
May I release … (whatever I want to release at the moment).
8. Based on the Five Remembrances
May I recognize my nature to grow old.
May I recognize my nature to have ill health.
May I recognize my nature to  die.
May I recognize the nature of everyone I love and everything I have will change.
May I recognize the only thing I can take with me are the fruits of my actions.
For practice for other folks, just change the pronouns to their appropriate form (he, she, her, him, they, them, etc.).