In a previous article, we learned 5 reasons to meditate from Brian Johnson. In today's article, we are going to learn 5 more reasons to meditate from Pema Chodron. These are more like qualities we can develop in our meditation.
Brian taught us these 5 reasons to meditate: strengthen your  mind, build willpower, optimize you immune system, change your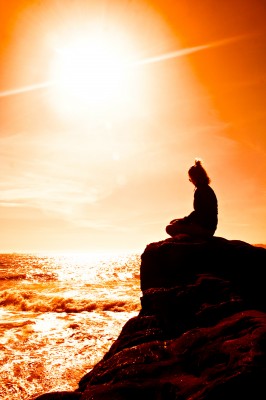 DNA, and connect with something bigger than your self.
Pema Chodron needs no introduction to most of the readers of this blog. She was a student of Chogyam Trungpa Rimpche and is now the abbess of Gompo Abbey in Nova Scotia, Canada. People really love her open, friendly, witty, and real way of speaking about her life and Buddhism.
Pema is the author of many books including Awakening Compassion, Bodhisattva Mind, Comfortable with Uncertainty, Don't Bite the Hook, From Fear to Fearlessness, Getting Unstuck, Good Medicine, Pure Meditation, The Places that Scare You, and When Things Fall Apart. Some of these are purely audiobooks and they are recordings of live retreats that she led.
In the Shambhala Sun article from which these 5 more reasons to meditate are abstracted, Pema says,
We do not meditate in order to be comfortable. In other words, we don't meditate in order to always, all the time, feel good. I imagine shockwaves are passing through you as you read this, because so many people come to meditation to simply "feel better." However, the purpose of meditation is not to feel bad, you'll be glad to know. Rather, meditation gives us the opportunity to have an open, compassionate attentiveness to whatever is going on. The meditative space is like the big sky— spacious, vast enough to accommodate anything that arises.

…meditation is about a compassionate openness and the ability to be with oneself and one's situation through all kinds of experiences. In meditation, you're open to whatever life presents you with. It's about touching the earth and coming back to being right here. While some kinds of meditation are more about achieving special states and somehow transcending or rising above the difficulties of life, the kind of meditation that I've trained in and that I am talking about here is about awakening fully to our life. It's about opening the heart and mind to the difficulties and the joys of life—just as it is. And the fruits of this kind of meditation are boundless.[Read More…]
These five more reasons to meditate have the effect of nurturing qualities that come to us as we continue to practice:
Steadfastness – loyalty to ourselves and our commitment to practice. We stay with our experience in the here and in the now without judgment, taking life just as it is. This has a remarkable effect on the other aspects of our lives.
Clear seeing – the ability to catch ourselves when we wander off from our object of meditation. We develop our ability to see our thoughts and emotions clearly and not get carried away.
Courage – the willingness to sit with your thoughts and feelings, even when they are good, bad, or indifferent. The good ones keep us coming back for more. The bad ones push us away, but not for long because of our courage to just sit. The indifferent thoughts and feelings can often be even more difficult because they lead to boredom.
Attention – staying present with whatever is going on in life, just as it is. We want predictability, but we get uncertainty.
No big deal – good meditation, bad meditation – no big deal. Don't get too excited about insights and don't get too excited about feeling bored, tired, or worried. Just be present.
Which of these qualities do you wish you had more of? Which one do you relate to the most? Please share.
Try These Books
I listen to both of these books on tape (which I now have transferred to my iPhone) over and over again. They are truly exceptional.