I am proud to present these words of wisdom from Elana Rosenbaum. Elana is a long-time teacher of Mindfulness-Based Stress Reduction (MBSR) along with Jon Kabat-Zinn. She is also one of my fellow authors of I am With You – Love Letters to Cancer Patients. Her essay, "Coping with Cancer" occurs on page 53, and it originally appeared in Mindfulness Magazine.
When my bother was marketing his Israeli tourist business to Rabbi Rosenbaum in Seattle last November, the rabbi mentioned Elana and her book, Being Well (Even When You're Sick): Mindfulness Practices for People with Cancer and Other Serious Illnesses. I called her a few days later and got a return call. We had a long conversation on the phone and agreed to stay in touch.
Imagine how thrilled I was to find out that her essay would appear along with min in I am With You – Love Letters to Cancer Patients!
Here, Elana presents the awareness of breathing guided meditation, which is an except from her new book, Here For Now: Living Well With Cancer Through Mindfulness. It is a portion of a guided meditation for awareness of breathing.
---
Awareness Meditation | March 4, 2015
---
Be in harmony with each breath, each moment, and know that in giving yourself this time to develop awareness and a steadiness of attention you are nourishing spirit, head, and heart. Let it be an adventure, and in the silence and the stillness that comes with practice you'll discover wonders here for you, now.
– Elana Rosenbaum, "Guided Meditation: Awareness of Breathing"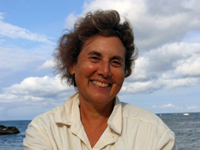 The full text of the awareness of  breathing guided meditation is in the Tricycle.com article, which you may not have access to. It is so similar to the First Mindfulness Meditation Practice that it merits looking into.
I look forward to a long and nourishing relationship with Elana Rosenbaum.
Have you tried the First Mindfulness Meditation Practice? What did you think? Did you continue on to the next one? Please let me know how your felt.
---
by
Elana Rosenbaum

Through narrative, guided exercises, and meditations, Here For Now was the first book to apply the principles of mindfulness meditation to living with cancer. This book empowers the reader to transform suffering into compassion and joy. Follow Elana's journey as she experiences the shock of her own … [Read More…]