These Fourteen Verses on Meditation were written by Zen Master Thich Nhat Hanh and translated from Vietnamese by ChanCo, Maple Village May 2016.
I want to express my gratitude to ChanCo who wrote regarding the translation,
In my translation, I have considered that these verses are verses of practice so I have tried to make them simple and succinct while retaining all the meaning. Also, please note that is not the official Plum Village version. I sincerely hope that the translations will contribute to further the understanding and the practice.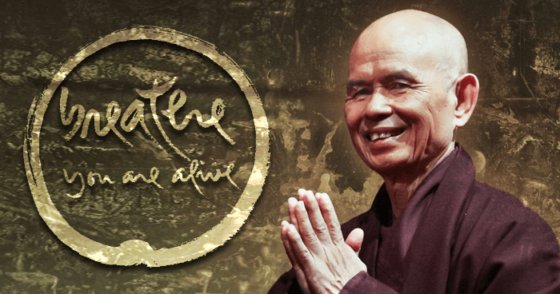 Fourteen Verses on Meditation by Thich Nhat Hanh

1. Like the two wings of a bird,
Stopping (Shamatha) and Looking Deeply (Vipashyana)
The two practices rely upon each other
And progress together, side by side.

2. The practice of shamatha is to stop,
Allowing us to recognize, to get in touch,
To nourish and to heal,
To settle down and to concentrate.

3. Vipashyana is the practice of looking deeply
Into the nature of the five skandhas1,
To gain insights and to develop understanding
Capable of transforming all sufferings.

4. Breathing and walking mindfully
Generate the energy of mindfulness,
To be aware of and to touch
The wonders of life within and around me.

5. Calming body and mind,
Nourishing and healing,
Protecting our six senses,
We maintain concentration.

6. Looking deeply into the heart of reality
To discern the true nature of things,
Vipashyana enables us to let go
Of all longings, desires and fears.

7. Dwelling peacefully in the present moment,
Transforming habit energies
Giving rise to understanding,
Will free us from afflictions and sorrows.

8. Impermanence is Non-Self,
Non-Self is Interdependent-Origination,
It is Emptiness, Conventional-Designation,
And is one with the Middle-Way, as well as Interbeing.

9. Emptiness, signlessness, and aimlessness
Liberate us from sufferings,
In daily practice we should not be caught in
Mere intellectual reasoning.

10. Nirvana is Non-Attainment.
Sudden or Gradual Enlightenment are not different.
After the realization, we live in freedom
Right here in this present moment.

11. The essential sutras, such as
The Discourses on Awareness of Breathing
And the Four Establishments of Mindfulness,
Show us step by step how to transform body and mind.

12. The Mahayana sutras and teachings
Open many wide gateways
To show us the deep insights
Of the Theravada meditation stream.

13. Tathagata meditation and Patriarchs meditation
Should not be differentiated and separated
Interbeing of the Four Noble Truths should be used
As the foundation of the transmission.

14. Supported by the Sangha
The practice flows easier to accomplishment,
Allowing us to swiftly realize and attain
Our great vow to help all beings.
The path to well-being can be seen in these fourteen verses on meditation.
One way to study, practice and observe these verses is to meditate on one of them each day for fourteen days.
Which ones speak to you the most?
---
1The five skandhas are forms, feelings, perceptions, mental formations and consciousness.