These words of wisdom from Pema Chodron appeared in the Tricycle Daily Dharma two days ago and I want to share them with you.
Pema is one of the best known and respected teachers of Tibetan Buddhism in the Shambhala tradition of Chogyam Trungpa Rimpoche. She is the abbess and beloved teacher of Gampo Abbey, a monastery on Cape Breton Island, Nova Scotia.
Tricycle Daily Dharma September 20, 2013
Catching Ourselves
| | | |
| --- | --- | --- |
| | Getting the knack of catching ourselves, of gently and compassionately catching ourselves, is the path of the warrior. We catch ourselves one zillion times as once again, whether we like it or not, we harden into resentment, bitterness, righteous indignation—harden in any way, even into a sense of relief, a sense of inspiration. | |
– Pema Chödrön, "Stay with Your Broken Heart"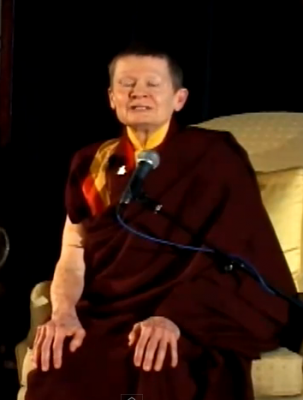 Pema's books include Awakening Compassion, Bodhisattva Mind, Comfortable with Uncertainty, Don't Bite the Hook, From Fear to Fearlessness, Getting Unstuck, Good Medicine, Pure Meditation, The Places that Scare You, and When Things Fall Apart. Some of these are purely audiobooks and they are recordings of live retreats that she led.
How do you catch yourself from hardening into resentment, bitterness, righteous indignation, or in any other manner? Please share.
Try These Books
I listen to both of these books on tape (which I now have transferred to my iPhone) over and over again. They are truly exceptional.